The grey stepping-stone pathway of workouts listed below was filmed by Fit2B Studio using Tummy Safe™ principles taught by The Tummy Team, meaning they effectively tone and strengthen the WHOLE body without crunches, situps and unmodified planks which makes them especially safe for those wishing to heal from or simply avoid *abdominal trauma.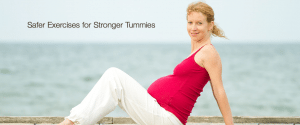 How many should I do at once? It is your responsibility to understand your own body's limits and honor them. Read our disclaimer. Everyone should start by mastering the first Five Foundational routines; they are crucial to your long term core health. If you are a beginner exerciser, please follow the path's order for safety's sake. If you are accustomed to being active, you may skip around and explore this pathway more freely, but only after reviewing the first five workouts. 
Focus on doing  1-2 of these "Foundational Five" routines each day during your first 2-3 weeks as a member; if you miss a couple days, don't sweat it. This fitness site isn't about regimented routines, rather, Fit2B is about being intentional with the time you do have.
NEW! Basic Transverse & Mula Bandha – 9:23
Once you believe you've mastered those Five Foundational routines, mix in the following workouts to further progress your strength and stamina. Some members do 1-3 routines every day; some use Fit2B just once a week; let yourself find what works for you.
Click for Pregnancy & Baby Workouts
These TummySafe™ routines build upon each other, slowly increasing in difficulty and time, so you'll find harder ones below!
Office Workout: Verticle Core Training – 6:56
 Tummy Safe Transitions – 16:54
Kelly Dean's 7-minute Wall Workout
More short core workouts in the Office Workout Pathway!
Need a fast one? Try Core Wake Up – 4:17
Now let's take it up a notch! These are LONGER and HARDER!
Kelly's  Total Body Toning – 27:04
Pilates & Yoga Loaded I – 16:57
Hey! Why are the workouts not ordered by time? Because they're ordered by difficulty and intensity

NEW! Rockin' Yoga & Pilates – 31 min
NEW! Tabata Kick & Squat – 44 min
You may repeat this pathway as often as you like. We add new workouts to this section all the time and repeating the pattern creates a natural cycle of resting and strengthening. Plus, you might hear a queue you missed before.  
Do you think you're ready to try Non-TummySafe™ workouts? 
See if you can follow the written modifications while maintaining alignment and transverse activation. If you are unable to, then stick with our TS routines a while longer. 
Gentle Yoga & Pilates Blend I – 17:44
Pilates & Yoga Loaded I – 16:57
NOT A MEMBER YET?
Click here for MEMBERSHIP info!
"I love the tummy-safe tabbata and Kelly Dean's 30 minute workout.  I feel sore enough to know I worked out, but not so sore that I am discouraged.  I'm loving this site and the work you are doing!" – Fit2B in Utah, Heather V.
"My back usually gets sore easily.  After doing your videos for a week, I gardened for 3 hours on Monday.  My back hurt Monday night, but it was fine on Tuesday!  Usually it would hurt for a couple of days afterwards!  I'm pretty sure that your videos have helped to strengthen my back, even in that short time." Fit2B in Oregon, Michelle B.
"I just wanted to publically acknowledge you for your amazing website! I am a stay at home mom who has been on a little hiatus from excercising. When I was ready to return, all of your workouts were there, waiting for me. I was able to get in a great workout while my little one napped. No need for a sitter or to drag her to the gym. I am so happy and grateful for all that you do!! Thank you." Fit2B in Washington, Jennifer P.
*Abdominal Trauma includes but isn't limited to a debilitating change in the integrity and function of the adbominal muscles, connective tissue and nerves due to surgery, abdominally abusive workouts, external abuse, extreme "stretching" sports, chronic constipation or asthma, or even poor alignment which creates undue intra-abdominal pressure. A diastasis recti is a separation of the right and left sides of your rectus abdominus, often accompanied by a thinning of your linea alba. It is caused by excessive intra-abdominal pressure from pregnancy, extreme stretches, long hours in poor alignment, asthma, constipation, and/or many other factors that leave the belly chronically distended and "poochy." If you believe you could have a large diastasis, we strongly urge you to seek additional abdominal rehab.