When I got my first job vacuuming the neighbors house as a kid, my dad sat me down several times to discuss budgeting. One concept he taught me was about using envelopes to segment my earnings into saving, giving, and spending. I would put a dollar in giving, a dollar in saving, and the rest in spending. Recently, that envelope system came to mind when talking to a member of Fit2B who was trying to figure out how to be sure she's exercising enough each week for the best results. I began teaching the envelope metaphor for exercising enough to other clients on their calls with me, and it brings such instant clarity about how to exercise enough, that I'd like to share it with you here!
Essentially, if you are a female exerciser, you need certain types of movement as you age. Women aren't "mini men." Our bodies are very different in terms of hormones, structure, biomechanics, life stages, and more. We deal with more heart and bone density issues after age 40, and we must fight to maintain muscle mass and mental health in ways that are very affected by our exercise choices. The way we workout matters, and I recommend that you go through our Proactive Perimenopause course to learn more + try the envelope system for exercising enough to be sure you're not over or under exercising each week.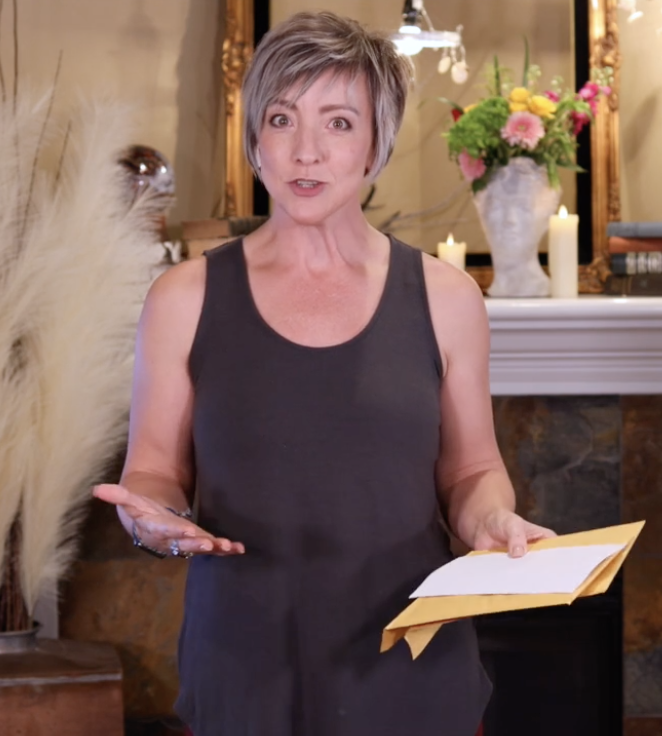 Use Envelopes to Exercise Enough
Let's say you know you can exercise on 3-4 day this coming week, or maybe you'll be able to workout on 5-6 days. You're going to make a metaphorical envelope in your mind for each of those days.
Now consider the science that has shown: Each week you need to load your bones and muscles with weights at least 2-3 times. You also need 2-3 cardio sessions as well as some stretching. You need 48 hours between weight sessions to let your muscles rebuild. Ideally, you need a minimum of 150 minutes of total exercise time each week.
What you do NOT need: to workout for an hour a day, long weight & cardio sessions, or stress.
Filling your envelopes with enough exercise
If you have 5-6 envelopes, meaning you have 5-6 times you can exercise for 20-25 minutes per day (again: it doesn't have to happen all at one time during the day) then I'd recommend putting weights in 2-3 envelopes, cardio in 2-3 envelopes, and some stretching, Yoga or other restorative work in your remaining envelope(s).
If you have 3-4 envelopes, you'll need to put weights in 2 envelopes and cardio in 2-3 envelopes. You'll end up doing some of both in 2-3 of your envelopes, but remember: these sessions don't need to be long. Also, here on Fit2B we offer combination workouts where you get your cardio and weights at the same time!
Here are some examples
You can get enough exercise with any combination of envelopes, but – if I could pick two crucial things to always be sure you do – you want to be sure that you're walking and getting those two weight lifting sessions each week. Walking can be a natural filler for hitting that 150 mark, but loading your bones and muscles at least twice a week takes more intention. Lifiting heavy things is essential to maintaining your muscle mass, bone density, cholesterol, mental health, and so many other things as women. Plus, lifting weights can also provide cardio! Here are some examples that utilize Fit2B workouts:
Insider Tip: Our color series would fill up a really fun, diverse set of envelopes. Just pick one color to go through each week, and you'll get everything you need!
Learn about our color series
What about core work for Diastasis Recti?
Here on Fit2B we offer hundreds of home workout videos, and we bring diastasis aware cues into every single one, integrating the abdominals into each move. If you are in a season where you need to do focused core workouts to improve your Diastasis Recti, then those might take up all your envelopes for a few weeks. That's okay, but you should also tuck some little walks into those envelopes, and – as soon as you're out of that restorative rehab stage – you can trust us to help you graduate to weight and cardio workouts that won't undo your progress if you do our Foundational Five Plus Course.
What do you think?
Leave a comment below and share what workouts you'd plug into your metaphorical envelope system. Does this system help your brain envision how to exercise enough? What are your tips for getting the right exercise in each week?