3 TummySafe Gym Routines for Diastasis Recti
Every personal trainer, group fitness instructor, and gym junkie has an opinion about what works best for the core: crunches, cardio, CrossFit, Pilates, Kegels, Yoga — or no crunches, no carbs, no Kegels, no CrossFit … and the debate rages on and on. This article provides three pinnable and printable workouts you can take to the gym as you attempt to navigate the jungle of online advice-givers proposing to solve your six-pack problems. 
Here on Fit2B, we provide workout videos for those dealing with diastasis recti who want to return to weightlifting, cardio training, pilates, Yoga, and everything! 
We have three printable workout routines for your core, upper body, and legs below! 
But first, I'd like you to consider two sets of questions:
Does the person you are trusting to safely reshape your body have specialized training or a degree in physiology, kinesiology, or exercise science? Look up their references and determine if they understand how to train people in your stage of life, or did they just get their certification online or in a weekend workshop? What qualifies them to train you? You can read my bio and see my curiculum vitae here. 
What does your belly do when you exercise your abs? If your core responds well to workouts, that's great! If it sticks out like something in the Alien movie series, or if you could swear it gets bigger not smaller the more crunches you do, well then, you're in the right place, because Fit2B specializes in bellies that bulge when they should be getting firmer and flatter. 
Sadly, most "fitness bloggers" are unqualified ghost writers, and most personal trainers don't know how to train postpartum women. If you have ever carried a baby inside your body, and you're ready to return to fitness, you need bespoke workouts that address the changes your core went through! When diastasis recti is present, it's crucial to adapt exercise programs. We cater to this here on Fit2B.
Hold on! What are my qualifications?
Before I give you another piece of what I have learned about THE CORE and how I learned it, allow me to walk my talk by telling you why you can trust the quality here on Fit2B:
It's not because I graduated with honors from Oregon State University in 2001 with a bachelor's degree in Exercise and Sport Science, specializing in fitness program management.
It's not because I have been teaching group fitness classes for almost 20 years. It's not because I have worked in every position within athletic clubs for over half of my life, including management, personal training, class instruction, sales, marketing, front desk, custodial/cleaning, and childcare!
It's also NOT because I have also completed several certifications and re-certifications involving umpteen workshops, trainings, lectures, etc.
Nope. None. Of. That. Even though it looks good on paper and separates me from other self-proclaimed experts.
You can trust how I teach because I STOPPED letting the fitness industry tell me how to make people so sore they couldn't walk, and I DECIDED that a healed functional core has to come before a chiseled bikini body.
You can trust me because I no longer adhere to the notion that your abs must be ripped apart to flatten them. You can trust me because I started listening to the restorative and therapeutic industry about how to bring abs back together. How to help people move without pain. How to present fitness in a gentle, effective way that doesn't promote injury, inflammation, and stress. 
In my own pursuit of knowledge, which is driven by the desire to further my own wellness and that of my clients, I have taken additional workshops and attended more lectures that pertain to my desired areas of expertise: pregnancy, birth, and fitness. Mostly, you can trust me because I promise to never stop learning and passing that knowledge onto you.
Okay, now to the exercises!
The following 3 free downloads offer gym routines that are safer for those with diastasis recti because of the gravitational angles, points of stress, and body mechanics. However, you also need to know how to properly engage your core during the work. Each of these moves has potential to work the entire core without creating too much intra abdominal pressure (IAP).
Free training tips: The incline bench at a gym is a wonderful tool for supporting your torso in a position that is more upright and easier to transition out of for sensitive tummies. Modified pull-ups build strength in the upper back, neck, and shoulders, while progressing you toward full chin-ups. Pair the top two exercises together, going back and forth with those sets. Then do the second row's sets together, so the back rests while the chest works. Then do the 3rd row. Take water breaks as needed and don't forget to stretch!
Most importantly, always stay in your comfortable range of motion. Practice the exercises without weight at first, and pay attention to how your belly acts:
Do your abs dome, tent, or bulge?
Do you find yourself holding your breath or gritting your teeth?
Do your abs move outward when you're working hard?
Does your crotch area feel like it's bulging while you're working? 
A few facts: Burpees, sit-ups, and planks are the WORST thing you can do with poor form if you have diastasis recti. Also, you need to know that this isn't just about women. Men and children can get DR because it is not caused by pregnancy — it's caused by pressure. (Read more on that here.) 
My Personal Experience …
When I first launched Fit2B, I thought I knew how to help a woman get her body back after having a baby because I got my body back after having my first baby … Then I had my second baby, and my body didn't bounce back from birth quite as fast.
My girlfriends and I compared notes, and we were all reporting the same issues of distended tummies, leaky bladders, lower back pain, low energy AND THAT CONFUSED ME because I had been SO strong during my pregnancies. I had exercised, worked my core, eaten my greens, and done some kegels.
Why were we all peeing our pants, begging our kids to not make us carry them, feeling like wobbly noodles, and dealing with those poochy tummies that refused to totally go away?
I knew it had to be related to some type of core dysfunction, but little attention had been given to female core issues during my college education or certifications other than a basic definition of diastasis and how it was normal. I had also been told merely to "avoid crunches during pregnancy, and splint the abs with your hands while doing crunches afterward."
Serendipity: Right after launching this website you're reading (that now has members in 40 countries worldwide!), I was serendipitously and divinely connected with Kelly Dean, licensed neuromuscular physical therapist and founder of The Tummy Team (please, pretty please, go check out her site — click here! — and take one of her stellar courses. I've done all of them, and every trainer should).
Fit2B has helped thousands return to full fitness safely. Many of our members don't have access to gyms, but those who do LOVE the confidence we give them to utilize their local facility with good alignment, breathing techniques, and movement mechanics.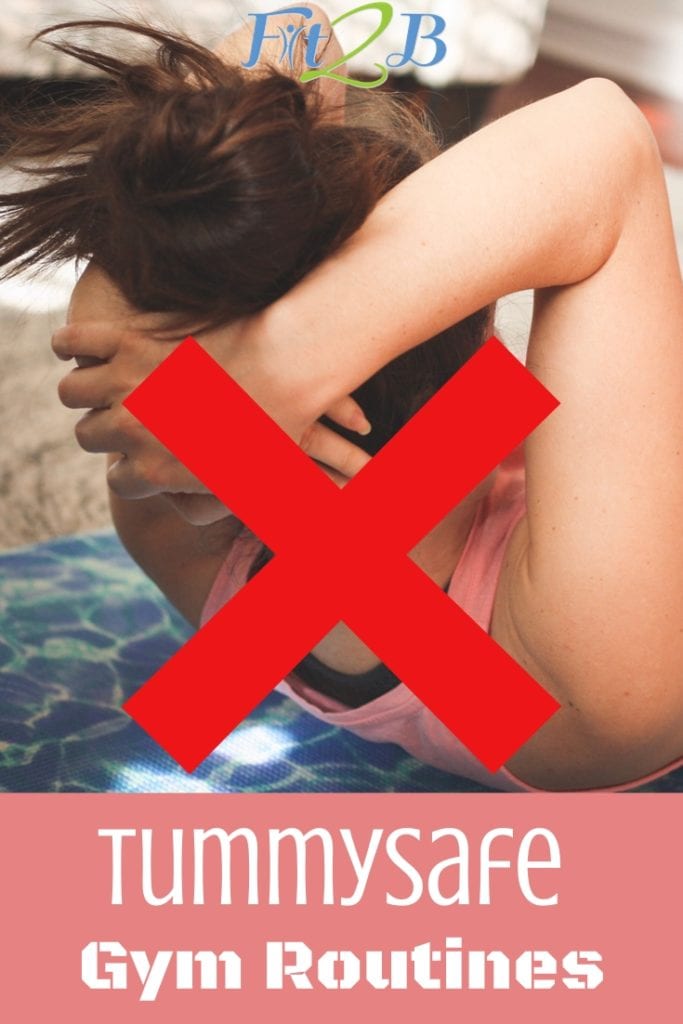 Here at Fit2B, we don't just help you move. We want you to understand WHY and HOW to move your body safely and effectively to get the results you really want. So we educate you here on our blog, in the lessons within our elearning courses, and in our family-friendly workout videos.
Some people want a bikini body or to be able to squat 2 barrels at the gym. Most people, though, just want to be strong contributors within their family and communities who are "fit to be" chasing after their children and their dreams. They want to be able to run that 5k without wetting themselves. They want people to stop asking if they're pregnant when they're not. They want to be able to chop wood, make love, ride their bike, go for a jog, do dishes for an hour, preserve peaches for 3 hours, and carry their sick kids up the stairs without fear of pain or re-injury to their core.