What's Provided in the F5+ Fitness Course?

 
The F5+ contains 14 Lessons designed to reconnect you to your core and pelvic floor muscles, starting with core basics and strategically progressing to full body workouts. A total of 13 different routines are currently included, and you are prompted to do certain ones on certain days over the course of 2-4 weeks at your own pace.
What's in each lesson of this fitness ecourse?
Each lesson contains a video for you to do, a focus word to ponder, written content straight from my brain & heart to yours, and links to other articles and resources. It should only take 15-30 minutes to complete each lesson, including the videos. Some lessons also contain encouraging "insider tips" from members who have gone through the F5 already.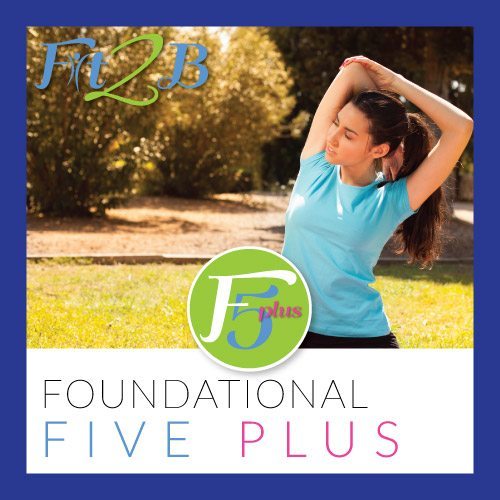 How long do you have access?
The course content is yours for good after you purchase it. Buy it today and go through it as many times as you want!
This course is included in ALL Fit2B memberships, in which case it's yours for as long as you maintain your membership.
All you have to do is log in, then select "Foundational Five Plus" from the main menu! You can go through it as many times as you want. The first time you go through it, you should do the lessons in order for the best progression, but after that, you can skip around to your heart's content.
Get Started now
What Routines Are Included?
This course includes a total of 13 routines, ranging from easy and basic to moderately difficult and slightly challenging near the end. Every single routine contains cues and demonstrations of form and strategies for breathing, alignment, abdominal pressure, diastasis management, pelvic floor integration, and more! The course begins with seated and standing core work, and then it progresses through routines that teach you how to handle impact and larger motions, and then it offers several "mainstream" style workouts that are centered on diastasis-aware "TummySafe" cueing and techniques.
Workout Titles currently include:
Cue Connections
Transverse Training
Align It Flat
Totally Transverse
Pelvic Floor Connections
Kelly's Simple Stretches
Kelly's Dynamic Pelvic Floor Routine
Transitions
Plain Ol' Pilates
Classic Flow A – Yoga
Purple Pump
21 Tone-Up
Green Gertie
Note: The old version of the course only had 9. As we learn more about the core, we want to give your core more because that's how it gets stronger and regains healthy tension to transmit the loads of life. This course was completely overhauled and relaunched in Summer, 2021.
We asked our members…
"The Foundational 5 gives me hope that my body will recover from this pregnancy and be strong again. That I'll be able to do the things I used to do and be stronger for new challenges. (Like the 10K I have my eye on)." – Bethany V.
"Being able to learn your body and learn how to carry and hold and support yourself in day-to-day life is so important – that is what the F5 taught me. It's not the 15 min workout it's the application that 15 minutes makes in your whole day and every day after that." – Jennifer M.
"People should listen to Beth because when we do what she says – it WORKS! After 7 babies, all natural births, when I listen to Beth and do what she suggests in my daily life, I don't LEAK! Woohoo!" – Kerry-Ann D.
You will feel the F5 from Day 1
You will LOVE taking the F5 course because it is a realistic commitment (not too long, not too short) with RESULTS! Who wants to spend a ton of time and energy, and still feel like you're at square one? You WILL feel the F5 from DAY 1 — and that spurs you on to finish the course strong and move on to continue to challenge yourself." -Laura D.
It has taught me how to correctly use my muscles
"I love the F5 because it has taught me how to correctly use my muscles, and gives hope for healing post pregnancy. People listen to you because you are real, honest and you explain how to complete the exercises in a straight forward and fun manner." -Jenny F.
I have closed my diastasis recti
"I do what Beth says because everything has worked. I started with Fit2b because what she was saying made sense. Then after just one or two videos I started to see a difference. By primarily using the f5 videos i have closed my DR and I see a difference in my life. Just those 5 videos made a huge difference in my life. I love the other videos too but the f5 is what hooked me and made me a believer." – Alexandria P.
Frequently Asked Questions
Q: Is this eCourse included in membership?
Yes, this eCourse is included in Premium Yearly Membership. If you are a current premium yearly member of Fit2B, you should log in and then look under "My Courses" to find it. If you aren't a premium member, well, you really should be. 🙂
Q: Is this program safe for pregnant women?
There is one set of moves in the Pilates workout that is done on the belly. Other than that: Yes, oh yes! Oh, Mama! Yes! Not only are the routines in this course safe for pregnancy, the moves will also benefit optimal fetal positioning and help mom prepare for a healthy labor and delivery. What's more, the first half of this course contains routines that have been approved by midwives, physical therapists, and OB/GYN doctors for use just 3 days after vaginal birth or 10 days after surgical birth! They are that simple and gentle yet so SO so effective! Of course, we still advise that you get approval from your own care provider and that you stop any exercise program if you experience dizziness, pain, contractions, bright red discharge, excessive fatigue, vomiting, or any other disadvantageous symptom. Movement should make you feel better, not worse!
Q: If I'm a member of Fit2B, and I don't want this eCourse, will I still have access to these routines? Are these routines now only available in this eCourse?
The routines are available to you as a member whether or not you buy the course. The course gives you structure and further education that bolsters your success. Purchasing the course on its own gives you forever-access to it, regardless of membership. The separate purchase price also pays for the months of extra work that goes into creating this course's extra material and content in addition to routines we've already filmed. So you still have access to these routines even if you aren't a member. However, if you buy any eCourse while you're a member, and then cancel, your purchased ecourses are still yours which means any routines in those eCourses are still available to you. The easiest way to get everything and have access to what you want for as long as you want it is to get a Premium Membership.
Q: Is this program safe for people who have a hernia? 
This is a safe exercise program for those dealing with non-surgical hernias, especially since all of them teach methods to manage pressure in your core which can contribute to hernia protrusion. If your hernia is painful or swollen red or hot to the touch, you need to be seen by a medical professional immediately. If your hernia isn't painful, and you've been told surgery isn't needed yet, then this program will help you get moving with strategies that minimize pressure on your hernia. You will learn better alignment, strategic ways to access your core during all types of exercises, and breathing patterns that will strengthen and support your core to minimize further damage. If you are having hernia surgery soon, we highly recommend the abdominal rehab and therapy services of The Tummy Team to ensure the best outcome for you.
**Save BIG when you bundle this course in a Premium Membership.  Learn more here!**