Are you in perimenopause?
When your period starts to do wonky things, or you start waking up drenched with sweat in the night, wondering if you were trying to run a marathon in your sleep, then maybe you're also wondering if you're starting to go through menopause. This is such an important thing to ask NOW and figure out, because if you're going through  this season that mean's it's not over. And if it's not over that means you still have time to improve your journey.
Do any of these fit you?
I am between the ages of 35 and 50 years old-ish.
My periods are different, and they're coming at various times.
I get really warm and sweaty sometimes, and I wonder if I'm having hot flashes.
My moods are really up and down, and I'm angry a lot.
I'm having trouble sleeping.
My libido is high one day and low the next… or gone completely.
I need more lubrication, and intimacy feels different, uncomfortable, or even painful.
My menstrual cramps are worse.
I workout the same amount, but my body isn't responding the same.
My weight has gone up unexplainably.
I eat the same food, but my scale acts like I'm eating more than normal.
My cravings for everything (EVERYTHING) have changed.
I feel like I digest food differently, and I get constipated and/or bloated more easily.
My energy levels feel lower than normal.
I wake up all sweaty in the night sometimes.
My bladder control has worsened even though I do kegels and exercise.
I want to exercise more, but I have zero motivation, and it stresses me out.
My skin feels thinner like crepe paper, and I notice new wrinkles all the time.
I get injured more easily and find bruises I don't remember getting.
My hair is thinner, and I feel like I'm losing it all the time.
Congratulations, you're (very likely) perimenopausal!
If more than 3 or 4 of the things on that list resonated with you, and you're a female between the ages of 35 and 50 years old AND you still have your period – regularly or even occasionally – then welcome to "The Change."
Maybe you thought menopause would start overnight. Perhaps you were told that your period would quit one day, and then the night sweats and hot flashes would kick in, and your hair would turn grey. Maybe you figured that if you're still having kids, you're exempt for now. Yeah, it doesn't actually work that way, but you can be super grateful that gearing up (or is it down?) to menopause is a drawn out process that we can manage with solid, simple strategies that improve all our symptoms and systems while also raising our quality of life!

Hi, My name is Beth
I was 31 with two little ones when I launched Fit2B in 2010. Now, I'm in my 40's with two teenagers. My body has changed right along with my kids, and I'm here with 8 other experienced women to change your experience with "The Change."
The longer I work as a core fitness specialist serving women recovering from childbirth, surgery, abdominal trauma and more, the more I realize that most females have been sold a pack of lies about postpartum recovery, perimenopause, and menopause.
The world literally teaches us that we are meant to fall apart. We're not. 
Every single perimenopausal symptom we might experience from painful periods to night sweats to mood swings to full menopause is MANAGEABLE with nutrition, lifestyle changes, exercise strategies, physical therapy, and hormone support.
My fellow course contributors and I are offering you a ton of top-notch tools and information that will open your eyes to the lies you've been sold and some solid truths about how you can change your symptoms of menopause during this 3rd age of your life.This course will teach you what kind of exercise is best.
Glorious hint: it's not more or harder.
This course will also help you begin to understand what your moods are telling you about your hormones, how to raise and lower your own hormones, what non-surgical therapies are available, how to ward off night sweats and hot flashes, how to improve your period, and even what kinds of food can help you manage your perimenopause, menopause, and beyond.
And now here I am in a sweater telling you more about it in this video:
What's in each lesson?
An engaging video from each teacher
A short, written lesson with easy tips to use immediately
A workout from Fit2B Studio that applies to each lesson topic + this season
Includes 10 Fit2B exercise videos
In addition to all the educational videos from the experienced and knowledgeable contributors, this course also includes a "Workouts" section. You'll be learning and exercising which means you'll be able to immediately practice some of the information about your bones and muscles with your bones and muscles! Talk about an immediate mind-body connection! This course includes:
Kelly's Dynamic Pelvic Floor Routine
Get Up (And Down) – Transitional Movement Techniques & Practice
Mexico Flow – Beach Workout
Cue Connections – Pelvic Floor Exercises
Face Exercise – Better than a facial
Red Rush – Angry Cardio
Silver Linings – Lengthening & Balancing Workout
Fuschia Fascia – Creative Stretching to stretch & strengthen connective tissue
Green Gertie – Kettlebell Workout
Rebound Cardio – Mini Trampoline Workout
You'll also have access to our private support groups on Facebook and MeWe
It's easy to start
Purchase the course today and check your email.
Open your emails and locate your login details.
Follow the links to your course & and the welcome page
Click on any lesson to begin thriving from the helpful guidance offered by each contributors video lesson + the workouts from Fit2B.
Take as long as you like with each lesson, and notice how you can skip back and forth. You don't need to "complete" one to move on to another.
Continue working through the course in any order you prefer.
Reach out to the contributors or post in the private support group with any questions.
Begin managing menopausal symptoms like a boss!
Think of this Proactive Perimenopause course like your own personal learning and healing retreat, only you don't need to rent a hotel, buy airfare, or stretch next to strangers. Plus, it doesn't last for just one weekend. You can repeat lessons. You can message the educators anytime. You can enjoy the workouts over and over.
It's yours forever
No time limits. No cut offs. No rush. Go your own pace. Buy this course today, and you'll have access to it and any other courses you purchase for as long as you keep your account with us.This course is included in Premium Membership to Fit2B which packages all 15 of our courses and our workout library with hundreds of exercise videos for one low discounted price. If you receive this course as part of your Premium Membership, you have access to it for as long as you maintain your Premium Membership.
It's simple & straightforward
Buy this course today and start learning simple, straightforward methods to manage your menopause from these REAL experts who know how to help with this massive change in our lives!Let these experienced women teach you how to have a proactive perimenopause – your journey thru menopause – by discovering what your weird mood swings are telling you about your body, what you can do about irregular cycles, what your fluctuating libido means, what exercises are best for bone density and body fat, what is making your insomnia worse, and so much more!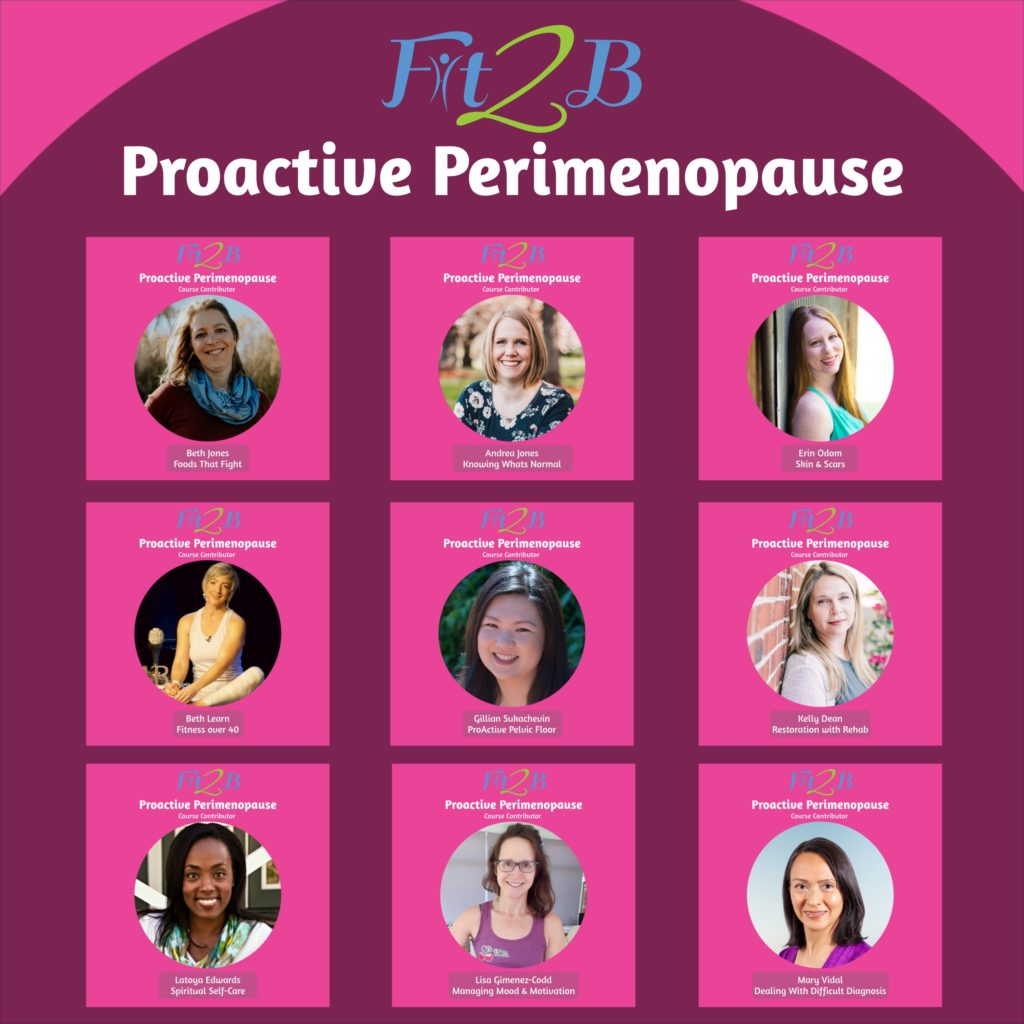 Proactive Perimenopause Contributors & Lessons
Restoration with Rehab 
By Kelly Dean, MPT, Founder of The Tummy Team
This lesson will help you prepare intellectually, physically and emotionally for the approaching menopause-related changes to drastically improve your experience. There are steps you can take to make an impact on how your body responds, and you can ultimately flourish during this natural midlife transition. Learn how rehab can repair even the oldest injury, weakness and muscle imbalances from your younger years and motherhood. Just as importantly, prehab can prepare you for the impact of changes coming in your future. Our goal is to give you tools to repair and prepare to be empowered for this new season of menopause.
Dealing With Difficult Diagnosis 
By Mary Vidal, MPT, Founder of My Whole Core
Getting bad medical news can turn your world upside down. In this segment I share the story of how I responded to my breast cancer diagnosis and offer tips on how you can prepare to handle difficult health news without falling apart. Hear my thoughts on the importance of understanding your diagnosis, building a support network, and having a self-care routine. Learn simple mind-body practices to help you get through this challenging time with confidence and grace.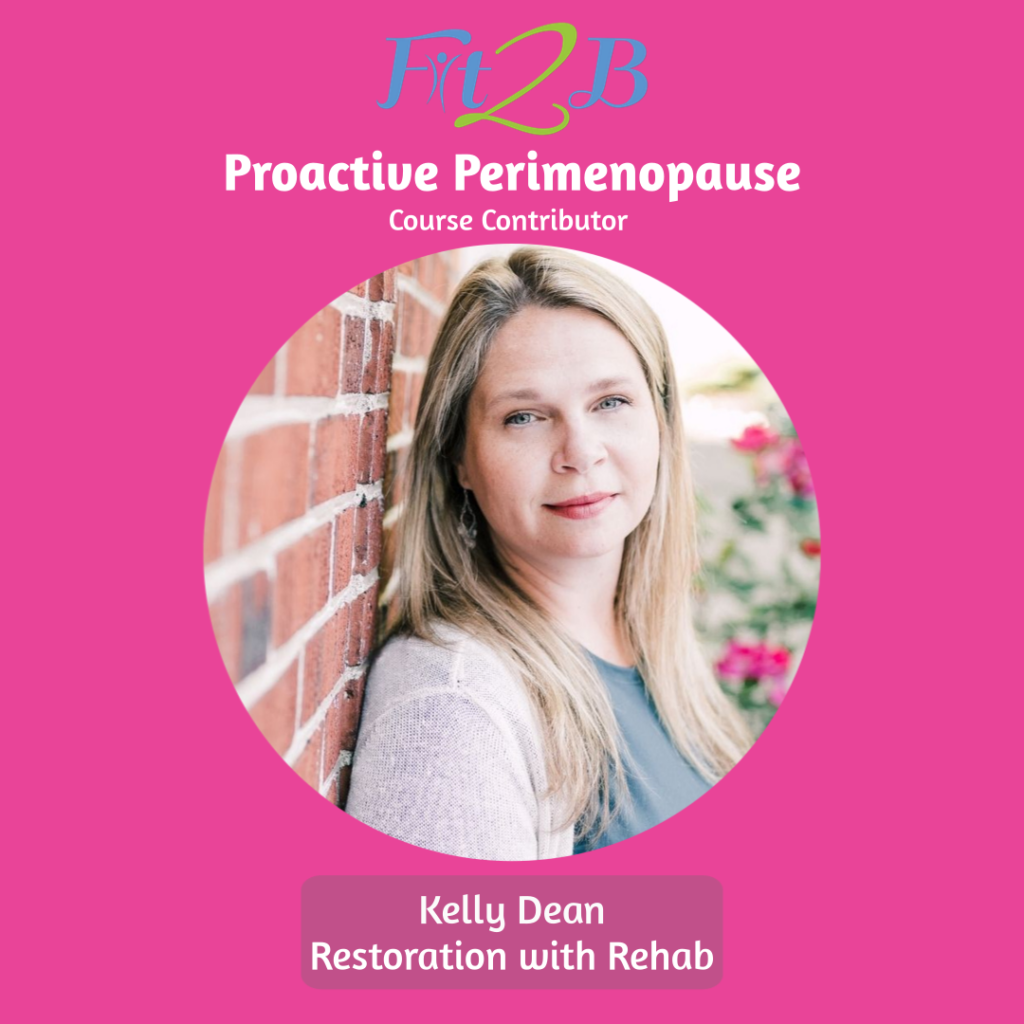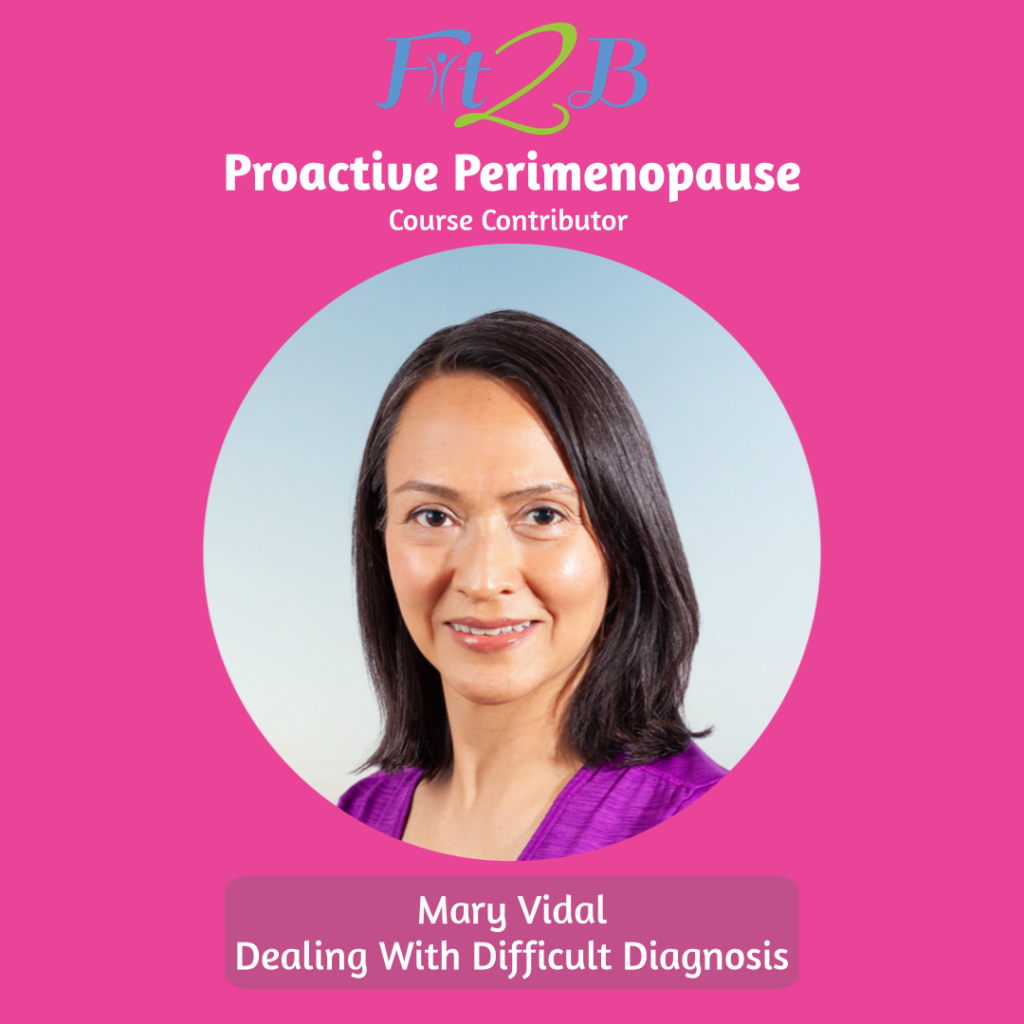 Skin & Scars: Aging Gracefully While Honoring Your Body's Battle Scars
By Erin Odom, Clean Beauty Advocate & Trim Healthy Mama Coach
This lesson offers 6 simple ways to slow down – or even reverse – the signs of aging, allowing us to age more gracefully by being kind to ourselves & taking care of our skin. You'll learn skin protecting tips as well as basic skin tapping techniques.
Spiritual Self-Care 
By Latoya Edwards, Founder of Women Finding God
This session will show you how to create a spiritual self-care plan you can stick to even when you don't have time to pee. Sometimes life is hard but that doesn't mean we can't care for ourselves well. Faith is a great thing to lean on during hard times and transitions. A spiritual self-care plan can really help this transition, and the language in this lesson holds space for everyone wherever they are in their spiritual journey. Note: This course is self-paced, and the order isn't set, so all the lessons can be done or avoided as desired.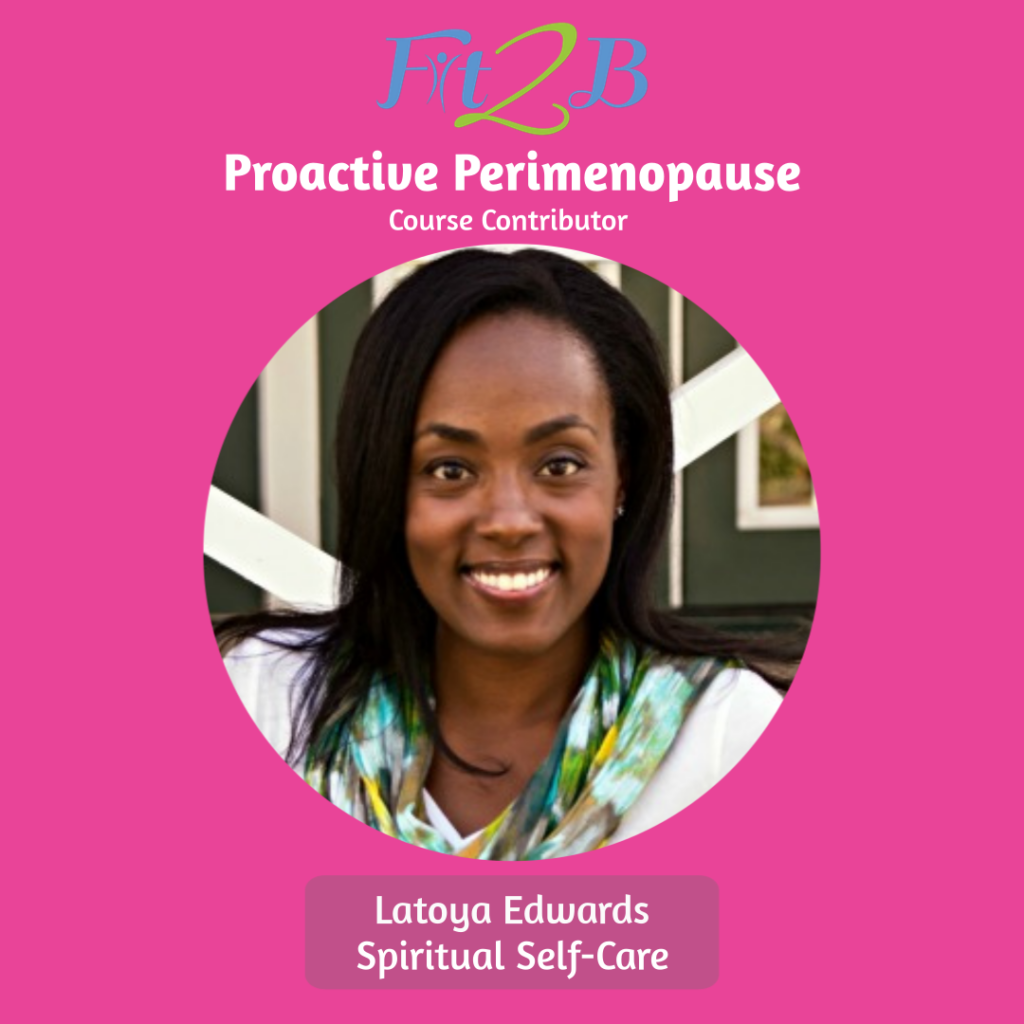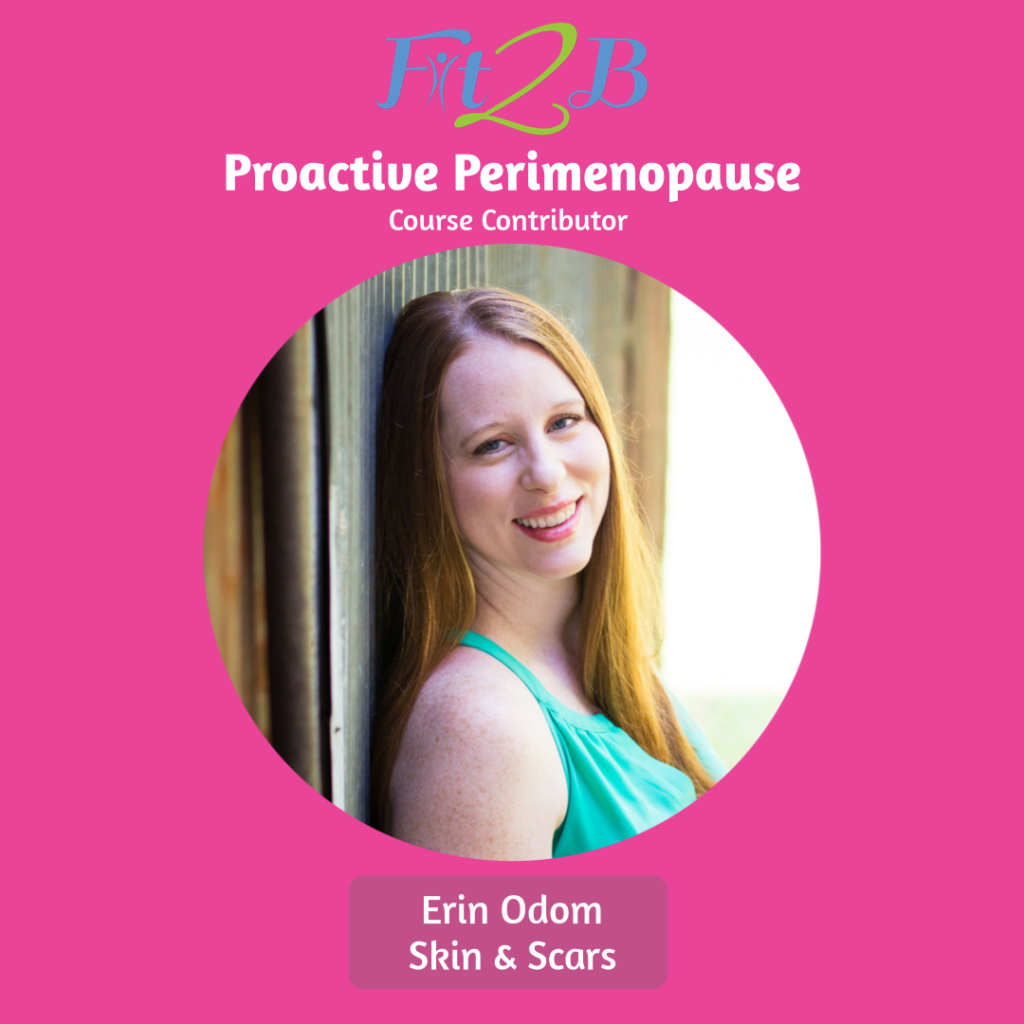 Managing Mood & Motivation 
By Lisa Gimenez-Codd, WHPT, Founder of My Optimum Health

Did you know that the word "hysterectomy" is linked to "hysteria" and the outdated theory that the uterus made women crazy, so it needed to be removed? Indeed, anxiety and depression are 2 of the recognised effects of menopause that can impact a woman's mood, confidence, and interaction with the world around her.

Many other effects of menopause also have an indirect effect on our mental health. This lesson will help you understand

 the way perimenopausal hormone changes affects our brain and bodies, along with methods to help you proactively manage each of the individual effects.
Knowing What's Normal
By Andrea Jones, RN, BSN, Founder of Abundant Wellness
Knowing what's normal (and what's not so normal) with your hormones is the first step towards making change so you can feel better! In this lesson, we will be covering: What's normal with your hormones, What's NOT normal with your hormones, How the whole picture of your symptoms gives us a better idea of what's actually wrong so we can fix it, and How you can support your body so that perimenopause and menopause are a breeze.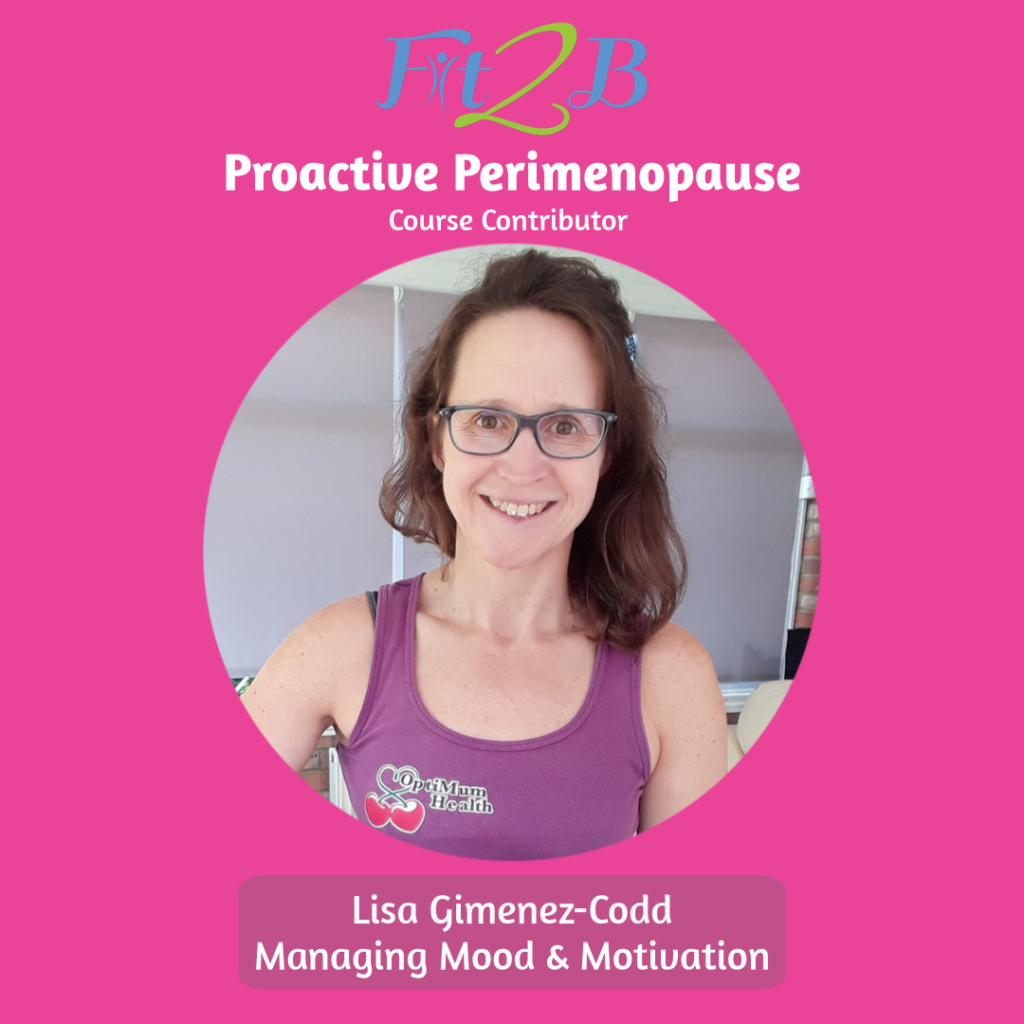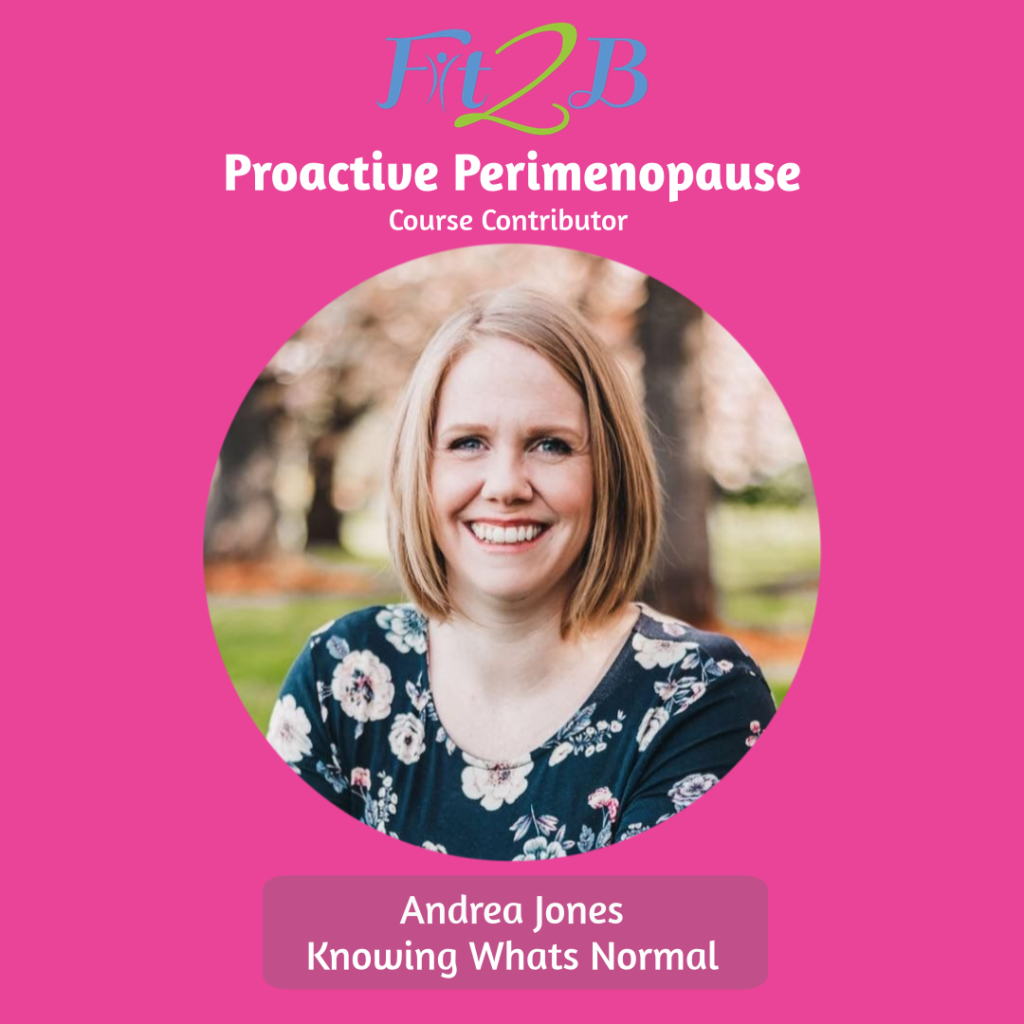 Foods That Fight
By Beth Jones, Med, ATC, LMT, WHC, Owner of Beth Jones Coaching
What should we eat when we enter perimenopause? What shouldn't we eat? What if I told you it's actually not that hard. We'll explore how to identify the foods that help you fight the common concerns of perimenopause and regulate hormones, and restore the calm instead of adding to the chaos. For example, did you know that low-fat dairy foods have been associated with earlier onset of menopause? (Purdue-Smith, et al, Am J Epidemiology, 2019)
ProActive Pelvic Floor
By Gillian Sukachevin, WHPT
This lesson goes over common pelvic health concerns that may occur during perimenopause like weakness, dryness, and atrophy. We'll discuss what you can do about those things, as well as the purpose of pelvic health physical therapy. We'll also identify basic pelvic anatomy, review care of pelvic muscles and organs, and offer some practical advice for painful intercouse… which will NOT include "just have a glass of wine and relax."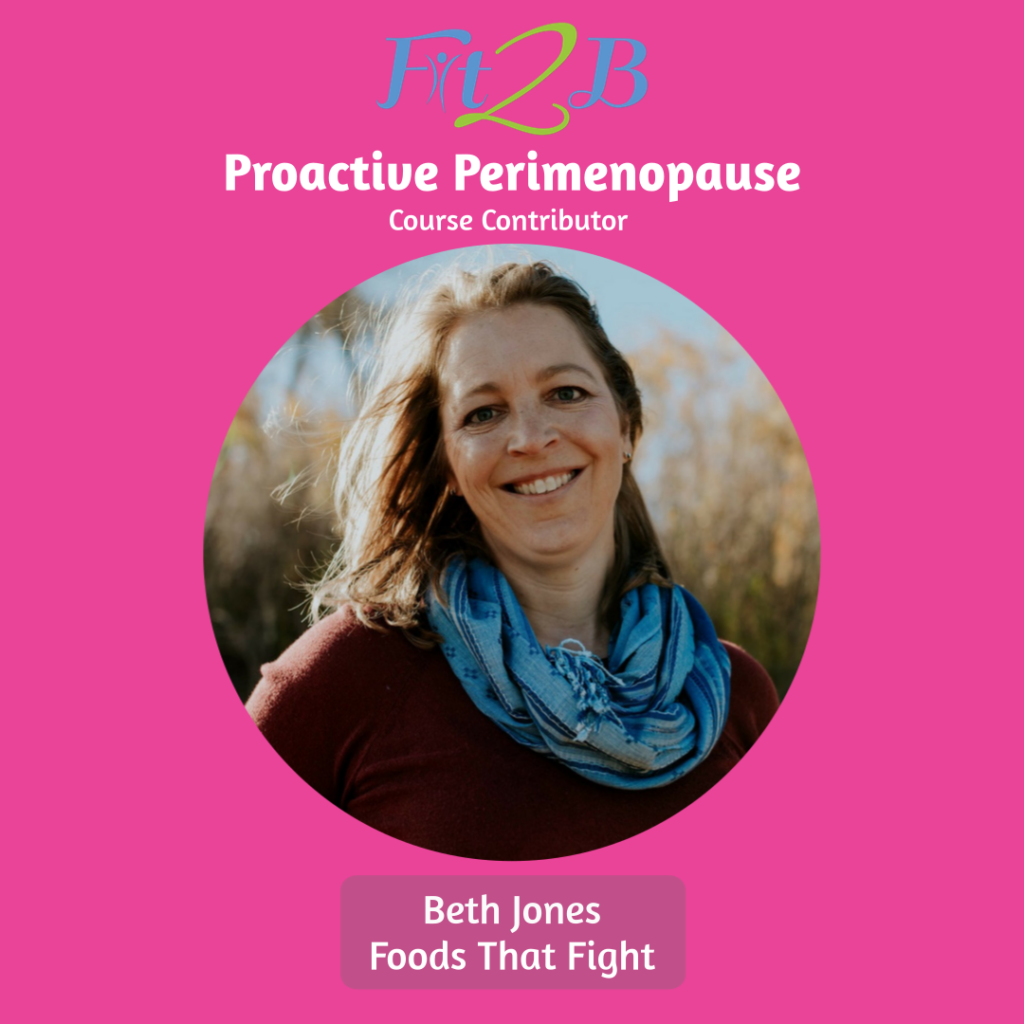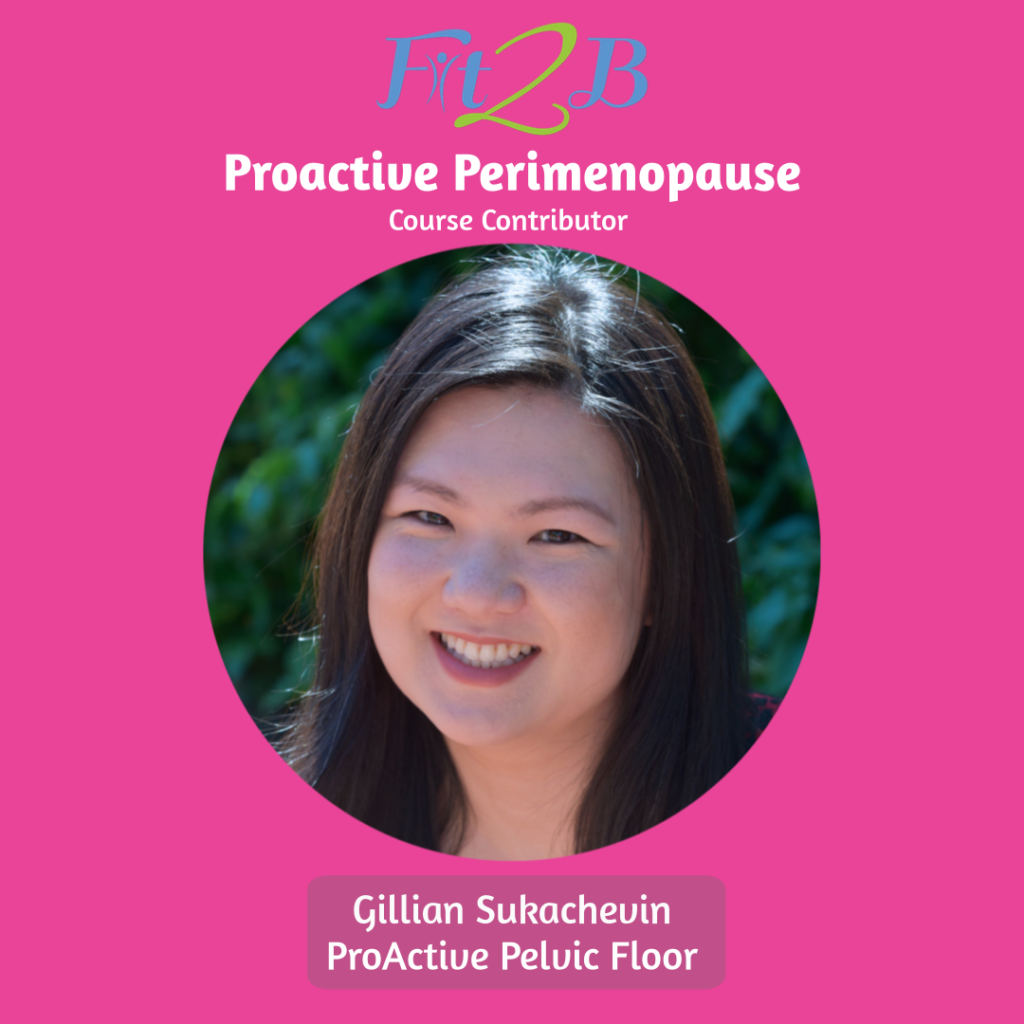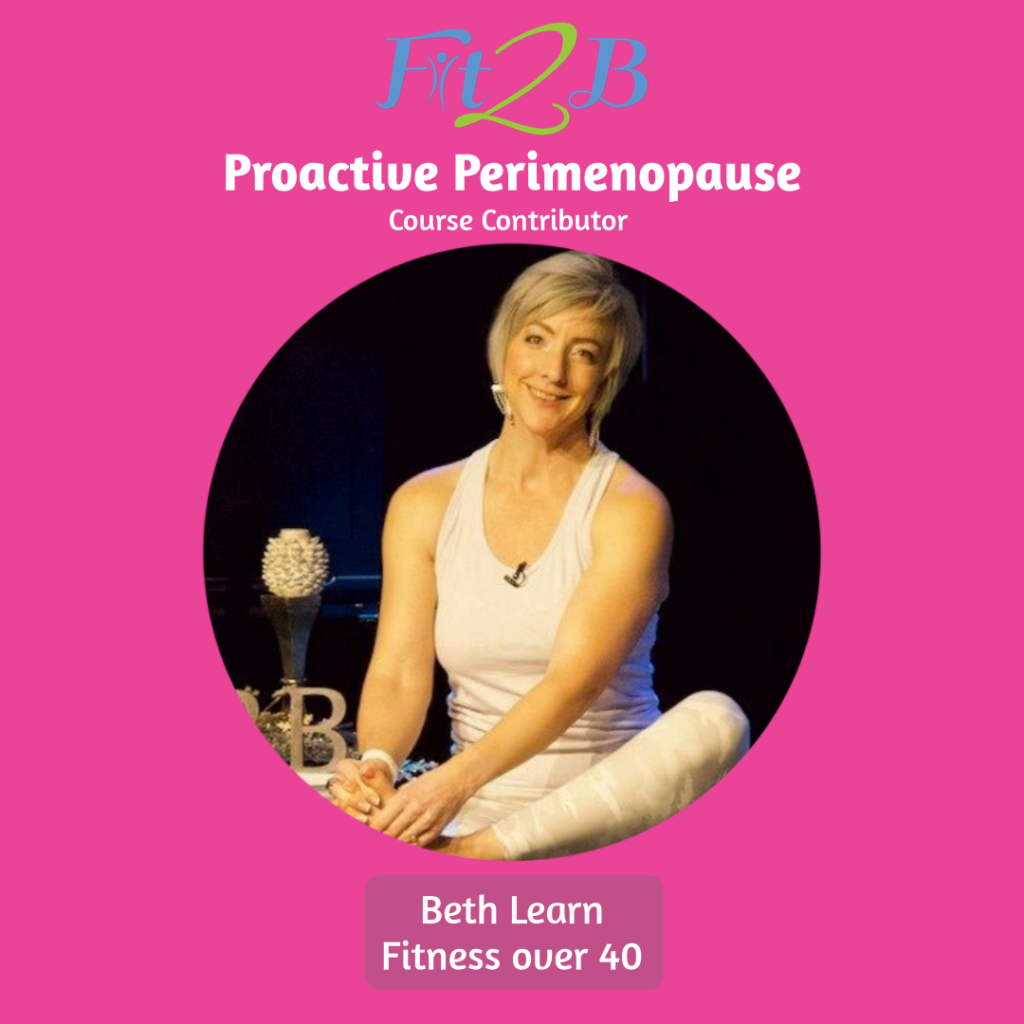 Fitness in your 40s & 50's
By Beth Learn, Founder of Fit2B
Fitness over 40… what does it look like? How do we stay firm through our fifties and strong past our sixties? Let's get clear on what matters and what doesn't. Let's look at the research, let's get real about where we're at in life, and let's set some goals for ourselves that will keep us fit for our whole lives in ways we actually enjoy! This lesson goes over the 3 best ways to exercise for better bone density, fewer falls, and healthier hormones!
Do you believe it's possible to get ahead?
We do, and getting ahead of menopause by deliberately choosing to thrive during perimenopause by taking the advice found in this course feels fantastic!Why wait for everything to come to a head? Why not get ahead of the hormone shifts by learning how to manage them at the first sign of change?You can go through "The Change" with more strength and dignity than what you've been led to believe. You don't need to accept being a sweaty, leaking, bone-holey, moody mess!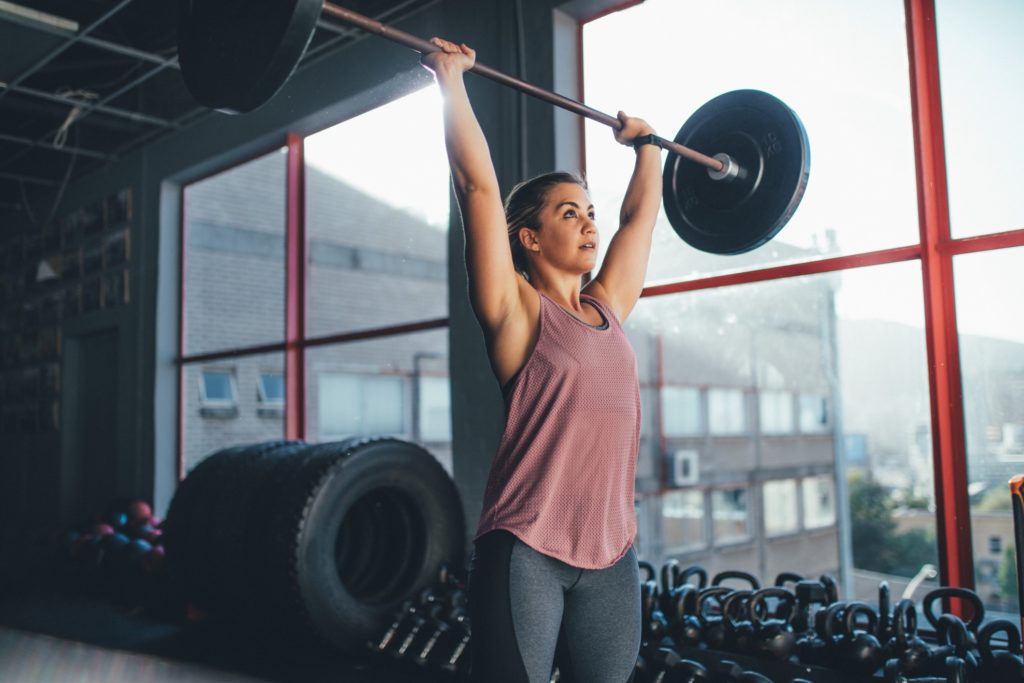 You have the power to positively impact your perimenopause experience. You can change the entire forecast of your health and fitness, and this will empower you to age with more strength, dignity, and control of your body and mind!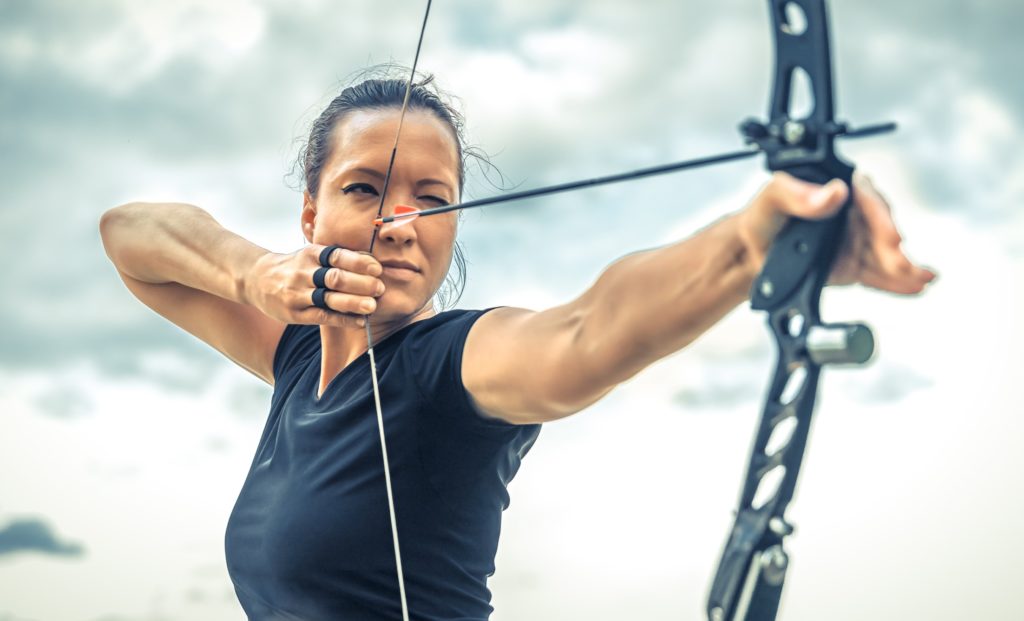 Frequently Asked Questions (FAQ)What is Perimenopause?Yeah, hold the phone… What exactly is Perimenopause? Well, the prefix "peri" means "during" or "through." Thus, perimenopause refers to the whole entire experience surrounding this massive change in our lives. It can be the longest season of the female lifespan, but it doesn't have to be quite so wretched.There are so many things you can do to facilitate a kinder kind of menopause – also known as the 3rd age of a woman's life. We hope you'll dive into this course we've made for you that explains all of it and offers immediately usable tools and information to help you navigate this oh-so-glorious phase.What if I've already started menopause?Because the word "perimenopause" literally encompasses the whole journey leading up to and into menopause, this course is STILL for you. It's never too late, and you'll learn ways you can CHANGE how you are being affected by this change. Whatever part of this roller-coaster season you're in, you'll find so much help and hope in this course, including ways to naturally boost your estrogen, ways to reduce night sweats and hot flashes, ways to improve your energy and motivation to exercise, and – you know us – ways to workout smarter for our bodies' current needs.What if I'm not done having kids?You can still be perimenopausal. Perimenopause is a phase that often bridges the childbearing years with the end of fertility. You aren't "in menopause" until you've gone without a period for a whole year… Perimenopause usually starts anytime between ages 35-50 and then years can pass before you cycle fully disappears (a.k.a. your menstrual cycle is fully paused)You can be pregnant and still technically in perimenopause, although you might have a slight "break" from some symptoms until your next period comes. You might be 42 with a toddler at home and another baby on the way, and you're wondering why this pregnancy is so much harder than your last one. You might be 35 with no children and wondering what the heck is happening to your cycles. In fact, irregular cycles due to perimenopause arehow many women in their late 40's have surprise pregnancies!Will Proactive Perimenopause benefit me if I'm post menopausal?This course speaks to the years immediately following full pause of our cycles as well as the years leading up to it. The exercise and nutrition information very much applies to "both ends of the bridge" that spans our journey across menopause. Those in early perimenopause will get the most out of this course because they have the most time and opportunities to use what is offered, but those are wrapping up menopause will also benefit a great deal from the workout videos, empowering education, and all the lessons on the various topics from sleep to weight loss to mood management.Will this course cure my menopause?No. It's not a sickness or disease, although some perimenopausal symptoms can sure feel like it and lead to misdiagnosis… yet another reason for you to grab this course! No more rabbit holes and doctors telling you something is seriously wrong or – worse – that it's all in your head?!Menopause will happen. It's part of a female's life. Period. But what you do right now during perimenopause – during the years leading up to and surrounding the end of your cycles – will dramatically elevate (or drastically lower) your quality of life later.Does this course have everything I need? This Proactive Perimenopause course can't replace your doctor, and it will clarify a lot of "next steps" for you to explore for personalized direction and care. This course contains a LOT yet it is far from being the "Bible" on Perimenopause. After all, whole books have been written, and research is still ongoing.Proactive Perimenopause is meant for the average, exhausted, overwhelmed gal to begin understanding that she CAN do some things to take charge of her life and body during this crazy-making stage. My hope is that people who access it will CONNECT with our contributors and feel CONFIDENT in their next steps on this journey.

We believe that we have the power to change our experience with "The Change." Because we've done it ourselves, and we have been trained to help others do it too!
We have power over our periods.
We have deepened our sleep.
We are no longer hot messes with hot flashes.
We have changed the way we exercise for better results.
We know many ways to manage our mood and motivation.
We have the knowledge to choose foods that fight our symptoms.
We know how to help our own hormones.
We are prepared for when intimacy becomes uncomfortable.
We are informed about what to be watching for in our bodies.
We know what to do, and we're doing it, and it's working.
Let us help you face your future with this level of self-control and confidence. 
Buy Proactive Perimenopause today!
**Save BIG when you bundle this course in a Premium Membership.  Learn more here!**