Hey Mama,
If you are falling apart then it's time for a hard reset.
You know, like when you hold down all the buttons to power down your phone and leave it off for a few minutes so all the things can reboot? Yeah, because moms need breaks too.
We can "run a lot of apps," process a lot of info, and even handle a few immersions in utter toilets if we can get a good night's rest in the proverbial rice bowl once in a while …
But we aren't getting sleep, and we suffer all the wet cold of winter and daily immersions in bodily fluids and floor mopping with 95% calmness and 5% not-calm-ness that we then feel guilty for. We are running nonstop and we are run down. Motherhood is beautiful and hard and amazing and scary and joyous and traumatic … All in five minutes on repeat.


Every. Single. Blessed. Day.
You've got to plot it, mama. Write down what it would take for you to get a break and get yourself put back together: three babysitters, a plane ticket, a ton of pumped milk, your husband to take one day off, your mom to come visit, a house cleaner, a pied piper in a pear tree?
Sweetie, you made tiny humans and keep them alive every day! You can figure out how to get away for a few days or even a few hours. And it will all be there when you come back, whether it's from a 3-day trip south, a trip to the store to shop BY YOURSELF, or a hot Epsom salt bath with the door locked.
Replacing us for any of those events pretty much takes all that stuff, doesn't it?

Okay, I know what you're thinking. You're thinking you can't get away because your kids will fill-in-the-blank-here with whatever age-appropriate mischief you worry they'll get into while you're away.
Yeah, but what if you go "round the bend" completely, mama friend?
Then your family can't replace you at all.
Suicide among young mothers who are depressed and overwhelmed is real. It happens more than we like to think — as in, it's the second leading cause of death among women who've had kids. It shouldn't happen at all, but we start falling apart and we ignore it.
We can't. We have to see it coming. We have to do what we can.
And you might need to leave for a few days so that you don't leave forever.
It's okay to take a break. It's okay to take some time now, so you can come back and be more present, so that you're HERE for the rest of the time.
If you feel like you can't take a break (let alone breathe) please reach out. Tell someone: a sister, a friend, a doctor, a spouse, anyone.


No, it's not easy to get yourself what you need — and shame on the people who call it selfish for a mama to put on her oxygen mask before she puts one on her kids — but it's necessary!
Take a break. Get your hormone levels checked. Get your daily time to yourself. Get a weekly massage. Get a monthly pedicure. Get your yearly checkup on your ladybits. Get yourself what you need so that your family isn't left without you.
Because you matter. You are needed. You are pivotal.
A change of scenery can reset the brain. The right doctor can help balance the crazy hormones. The right babysitter or house cleaner can help the ledge feel further away. The right counselor or preacher can help you sort it all out.
Do what you need to do to take care of yourself for the long term, Mama.
Oh, and as a mom who has been on Zoloft for severe anxiety — and successfully come off it now that I can manage my anxiety with techniques I learned in various types of emotional, spiritual, and nutritional counseling that are very specific to me and what I've been through — you need to know I've been there. I get this.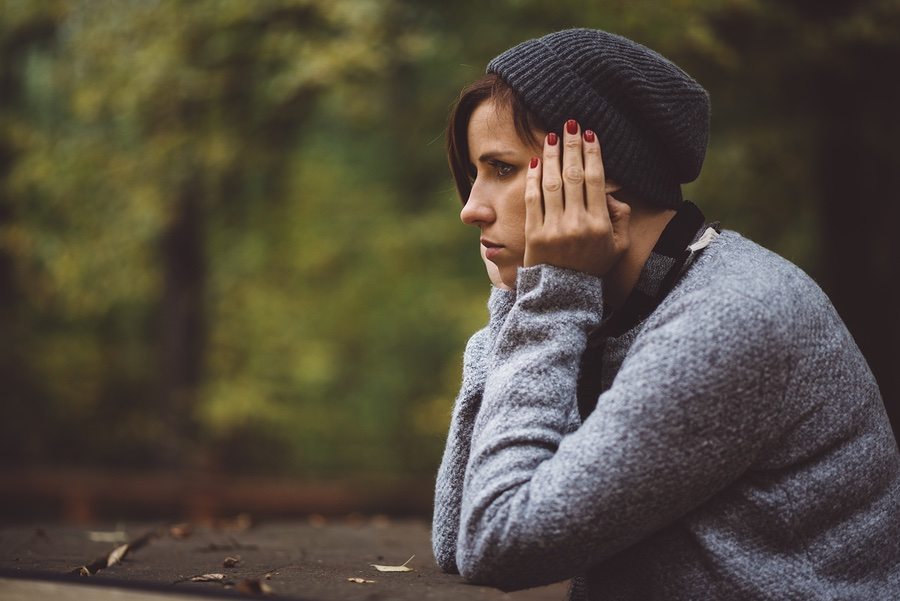 It wasn't easy for me to fight back, but it was SO worth it. Fit2B wouldn't be here if I hadn't. Neither would I. Because there was a time I wanted to shut myself in a garage with the car running, and no one else knew I was having those thoughts but me. I was the only one who knew I needed help, even though I was part of a mom's group, part of a Bible study, part of a great marriage, part of a great church, part of a great neighborhood.
I was so good at hiding, I was nearly lost forever.
I had to face it, get it out, and get help. You need to get help. Whatever that looks like for you.
Please, Mama. Because your unique version of strong beauty is so very needed in this world.
Blessings to you, Mama …
Beth

Additional resources for anyone who's struggling:
PPD Moms: full of information about postpartum depression.
Suicide.org: a nonprofit specializing in prevention, awareness, and support.


P.S. As you can understand, this topic is personal for me, so I did this live chat webinar with my good friend Alice and her naturopath who specializes in helping people balance their crazy. I'd love for you to watch it and hear our stories.

NOTE: After EQ helped Alice so much, Chris reached out to Dr. Timothy Hyatt and began working to help grow the company's reach. He helped build the company's affiliate system, and we are proud to say that Fit2B became the first to sign up to further promote this product that has helped our families so much. Even before we were able to make a small commission on the sales of EQ — at no additional cost to purchasers — we were singing its praises. You can use our affiliate link here [click] or our regular link here [click].

Use this code to save 15% at checkout >>> fit2b15off

If you want to learn more about Alice's story you can follow her here [click] https://prudenceohaire.com/