When a woman with an unclosed core discovers the massive amount of resources that Fit2B offers those experiencing abdominal separation, she typically gets super excited and then a bit overwhelmed. And it's no wonder! I've written multiple ecourses and close to 300 articles on here plus created almost 200 fitness workouts that support the stomachs of those with broken bellies. This 5 part blog series addresses the most common concerns, and it's a good place to find hope as you deal with diastasis recti.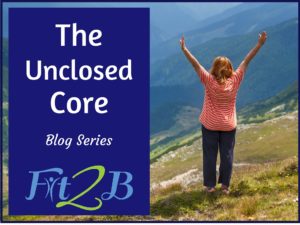 Introduction: Diastasis Isn't Forever
Part Two: The Chemistry of Closure
Part Three: The Emotions of Closure
Part Four: The Biomechanics of Closure
Watch for the 2017 release of my book:
Standing In The Gap 
What is it like to live in the trenches of traumatized tummies like I do? What does it take to really help women unmuddle their middles, not just at the physical level? Because abdominal separation goes deeper than the gap in our guts, and women report feeling it on every level, emotionally, spiritually, even socially. Join me as we explore every facet of dealing with diastasis recti, from science and stories to historical and Biblical perspectives on the core. Let's stand in the gap together!