Are You Ready for Better Neck Posture?
You're only 14 days away from fewer headaches, less neck pain, and better posture with these simple life-changing lessons that will teach you the exercises and stretches you need to improve your tension and alignment!
In the 14 Days To Better Neck Posture eCourse, Bethany will teach you some great stretches and easy tools that you can use throughout your day that will help relieve the tension in your neck, chest and shoulders. Each lesson features video content, information, images, and more!
How will I go through this course?
Open a new lesson each day for 14 days. It's okay if you miss a day here and there, but do your best to stick with it for the best outcome. Consistency is key to your success to better neck posture and less discomfort.
Do video workout embedded in each lesson. There are 3 different videos that alternate. These are embedded into each lesson, so you won't need to look for them. They include: The Neck Routine, Shoulder Stretches and Face & Neck Yoga.
Each lesson also contains written content. It should only take you about 3-5 minutes to peruse the article within each lesson. Often there will be links to further education.
Last, but most important, you'll be encouraged to spend a full day practicing the challenge in each lesson. Doing one motion over and over is key to application of what you're learning. There is a different one each day, and they build upon each other.
How long will this eCourse be mine?
This 14-Days To Better Neck Posture ecourse is available as part of a premium membership to Fit2B. It is also available as a separate, stand-alone purchase.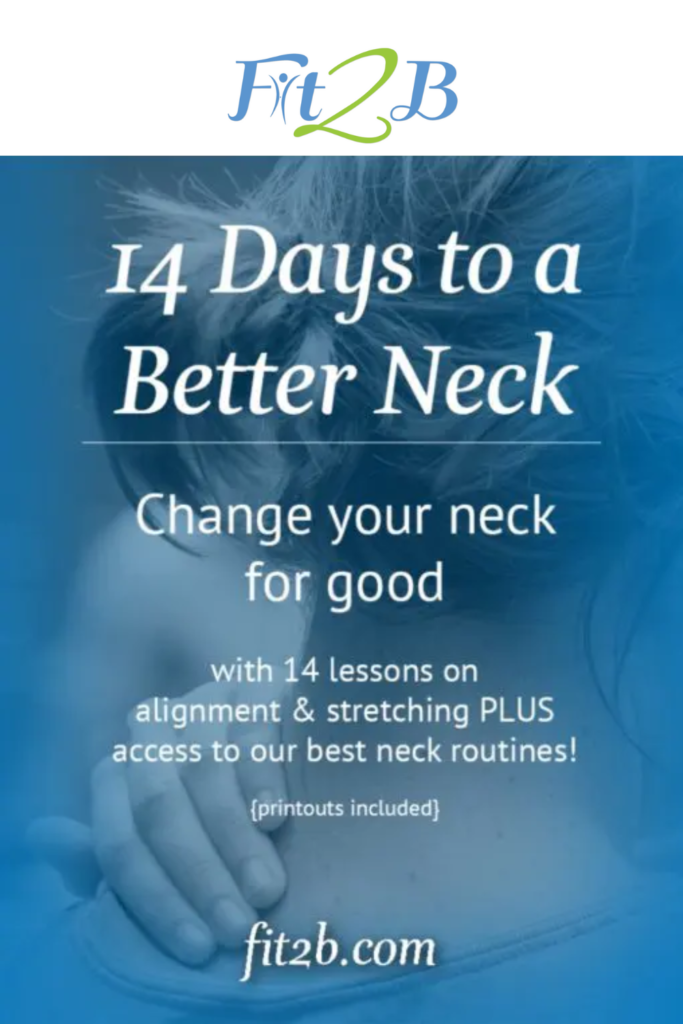 If you purchase it by itself, it is yours forever. You can go through it as many times as you like.
If it's included in your membership, then you have it for as long as you maintain that membership. If you cancel your membership, you lose any courses that were included in that membership.
How do I access this eCourse after I buy it?
After you purchase this course, check your email for a confirmation with a link.
You will need to log in with your username and password that you make while checking out.
Once you're logged in, look under the main navigation menu and find "Courses." You will find all your courses there, including any that come with your membership if applicable.
On mobile devices, the main navigation menu appears as 3 horizontal pink lines in the upper corner of your mobile device. Tapping those lines will expand all your options, several of which expand into even more options. Fit2B has a lot for you to explore!
Can this eCourse take the place of massage therapy or chiropractic care?
This ecourse with exercises for better neck posture cannot and isn't meant to take the place of professional care. We all need the in-person hands-on touch of a licensed specialist at some point.
In the course intro, you will get to read more of Beth's personal story and how the motions and stretches included in the videos and written content of this course protected her from surgery for most of her life.
This course is meant to be utilized in concert with chiropractic and massage therapy care. It contains many admonitions and tests to help you determine if you need to seek further treatment. It's not meant to treat or diagnose, but rather to help you maintain and improve your neck's range of motion and alignment.
We can go to chiropractors and get all the x-rays that reveal all the things, but if we don't address our alignment and movement patterns in daily life, all that information and all those adjustments don't do much good!
Your body's ability to move is a luxury. Don't take it for granted.
Expand it. Enjoy it.
Start this eCourse today! 
**Save BIG when you bundle this course in a Premium Membership.  Learn more here!**