Seven weeks ago, I started
diastasis rehab
with
The Tummy Team
. I didn't think I really needed it. I mean, I own and film for an online fitness studio, right? I'm buff! I workout all the time! But my abs were broken, and my lower back was sore a lot. I've never put much faith in a flat stomach because I had a six-pack and I just figured I was bulky from that and having kids. But after being told that a diastasis and
too many crunches
could be the culprit behind my mama-pooch, I decided I needed
rehab
 just as much as many of my clients did.
The above picture shows my tummy in a relaxed state. I'm not pushing out or pulling in. I had
my last child
2.5 years ago. I could do endless crunches, V-sits, plank poses, and more (and my belly formed a decent six-pack when flexed) but my transverse abdominus (god-given girdle)was stretched out, poochy, weakened, and putting pressure on my rectus abdominus (six pack) forcing it to split apart whenever I'd relax. After all, we don't walk around in a crunch posture with our abs flexed (and honestly trying to always suck it in and keep my abs flexed made me "leak" more).
 That second picture was taken
after
after I finished 
diastasis rehab
just six weeks later. I want you to notice two things. First, my stomach is no longer rounded but much flatter, and I
did not do a single crunch
during that entire six weeks. Second, the line of back fat (see? no air brushing!) on my side is smaller and less defined because my transverse is pulled in and I lost some inches! My little love handles are disappearing! Now for the "before" front view…
As you look at this "before" picture above, you can see my "outie" bellybutton, proving that my connective tissue was thin and allowing my internal organs to push out on my navel. Second, notice my sides and how straight they are; not much of a curve to my waist. Third, you can't really see the lines on either side of what used to be a lovely six-pack. I'm not saying this for vanity. I'm saying all this so you'll now see the big difference. Again, these pictures were taken in a relaxed state – no pushing out or pulling in.
Kelly
retakes them if you cheat! And I assure you, these photos have not been doctored in any way!!
What do you see? I see that my "outie" is now an "innie" again! I see that my side curves are back! I also see my six-pack re-emerging. Now, I've never been one to flaunt my body. I film in modest attire, and was raised in one-piece swimsuits. So it actually takes courage for me to show you these things.
I'd like to leave you with my final numbers. When I started rehab, I had a three-finger split under my ribs, a 3.5 finger deep split at my belly button, and a three finger split above my pubic bone. I was open from top to bottom with "deep" connective tissue like cellophane, and my waist measured 37″. I am now closed at the top and bottom with just a 2-medium separation in the middle, and my waist is now 34″ …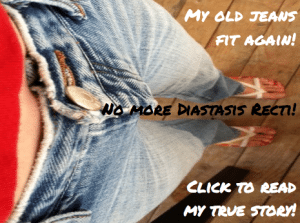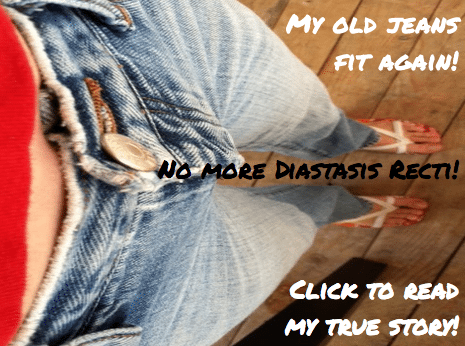 So I lost 3″ in 6 weeks without dieting or doing crunches or massive amounts of cardio. 
All I did was strengthen and tone my god-given girdle. My lower back pain is gone. My dragon-boating is more powerful in my core. I'm not "leaking" anymore when I sneeze or cough (and I just had a cold, so I know!) and this is the note my husband left me this morning …
"Good job on your tummie. I appreciate how you try hard to keep yourself fit. Your looking GOOD. I LOVE YOU."
2012 update – waist is 30″ at navel – diastasis is closed