Crunches are a human-invented exercise, created when someone decided that the abdominals work like every other muscle, and that shortening a muscle flexes it, and flexing it over and over makes it stronger. However, the hard fact is that just like we now know that situps can compromise your spine, repetitive crunches done carelessly can compromise your stomach muscles especially when dysfunctions like diastasis recti are present.
Flexing your six-pack (rectus abdominus) over and over with crunches can indeed strengthen that layer of your abdominals, but here are two things to consider:
Your abdominals have 3 other layers which need attention besides your 6-pack.
Your abs are UNLIKE every other muscle in your body because of a special band of fibrous connective tissue (linea alba) weaving them together in the middle.
That seam running down the middle of your abs binds the two sides of your abs together much like the seam on the butt of your pants keeps the material over your tush together. Too much bulge from inside, combined with wear and tear over time, combined with the pressure of bending to sit and … suddenly things are sticking out where they should NOT be!
The drawing above shows an awful case of diastasis recti but it is by no means exaggerated. Every pregnant woman gets diastasis recti to some degree, and sadly many of them continue to live with dysfunctional ab gaps and lack of proper tension in their cores long after having their last babies.
Oh, but guess what. It happens to MEN, TOO!!! You've seen them: the dudes that are super buff everywhere but their guts. Their arms and legs are ripped, but their relaxed abdomens look like they're about 8 months along!
While it can happen when you're young and athletic, diastasis recti typically happens once those stressed, overworked muscles go sit at a desk all day, or once you get pregnant and your body has to open up to make room, or once you have abdominal surgery and your nerve connections are severed, or once you've dove into bed funny one too many times.
Diastasis rectus abdominus isn't a death sentence. You can check yourself for a DRA here with our free self-check videos. It's typically very treatable without surgery, using key rehab techniques that we align with here in our workouts on Fit2B.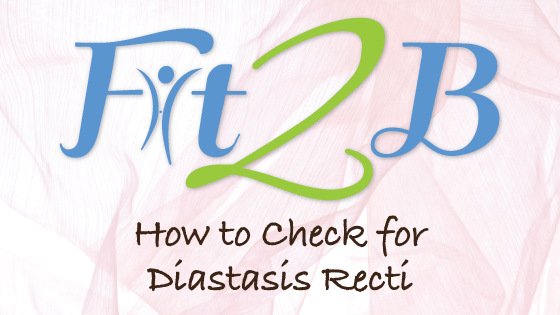 As a personal trainer and fitness professional, I have been highly educated to put your body through various motions to give you the look you want. If you want a longer, leaner look, I know how to train you with lengthening motions. If you want a bulgy, buff look, I can train you accordingly. We're pretty successful with these techniques up to a certain point: after all, your genes play the final card.
However, most people want a flatter stomach. They don't want to hypertrophy their abs, making them bigger and bulkier! Crunches put a lot of bulging pressure on abs with diastasis recti which lack the ability to manage their intra-abdominal pressure. Over time, that repeated forward, forceful, bulging stress does a number on that line of connective tissue.
I Once Had a Diastasis
After having two children, I never stopped exercising. My abs were strong, but I could fit 3 1/2 fingers in between my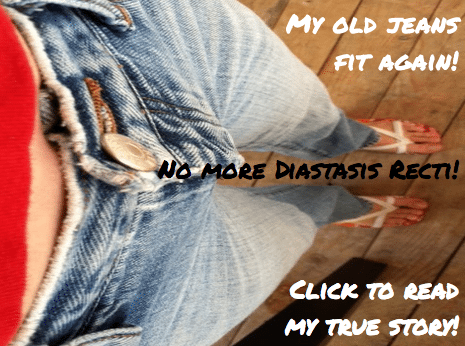 abs and feel my pulse. I was trained wrong. I was taught how to test others wrong. I was told it only happens to women, and that is wrong. I was told to accept that my body would fall apart after having children, and this is WRONG.
So what did I do? I went through ab rehab, and I got stronger and smarter and my tummy got flatter, and I am constantly filming new workout videos that safely work and restrengthen the abdominals of people with this injury.
If you are a personal trainer, please test yourself and test your clients. And stop doing crunches with people who already have a gut or even a slight pooch, because it's not what they need. They need more from you than the standard planks and basic ab work, and if you really want to help them, follow this link and read about the physical therapist I am working with who had a six finger separation and was able to avoid surgery!
This internationally acclaimed fitness site that you're on right now contains a library full of workouts, eCourses and other resources to help you learn about dealing with diastasis recti. You've come to the right place!