Whether you get an epidural or not, birthing a baby takes strength and power. If you think you're going to experience a few contractions that will just hurt a little bit, and then you'll get an epidural and lie there until the doctor or midwife says to push… or if you think that you'll "try" to go natural and you might "try" squatting… or even if you are planning a c-section… well, labor and delivery and recovery – no matter what type of birth you are hoping for – will take the MOST stamina and endurance ever required of you!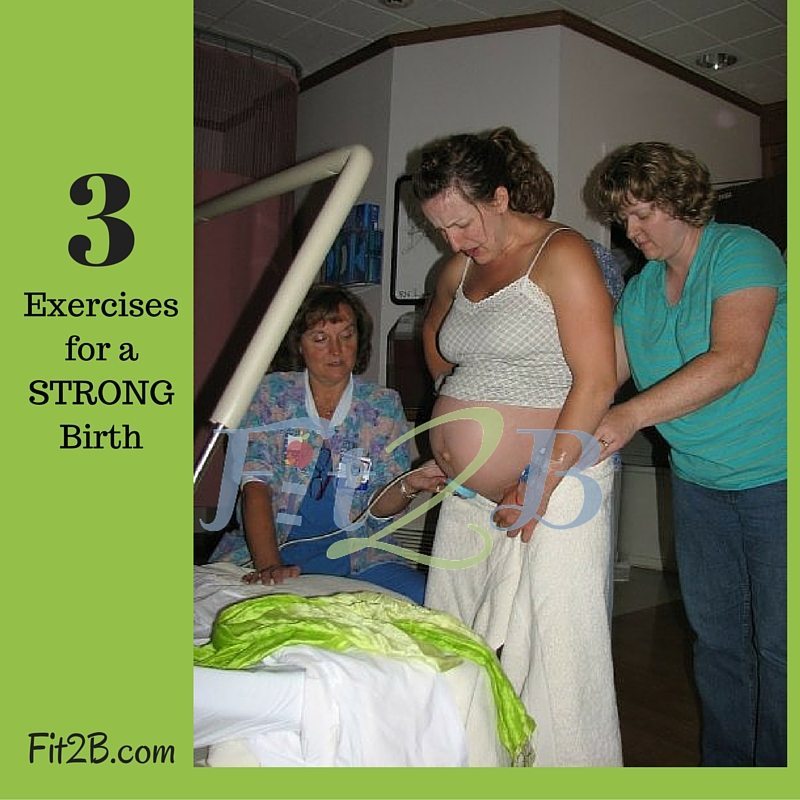 If you go natural, you'll need to be physically prepared to change positions, sitting, standing, squatting, kneeling on all fours to work with your body and baby as the rushes move your baby through the birth canal. If you have a c-section, your abdominals will be cut through, and the stronger they are before that surgery, the faster recovery you'll make. If you have an epidural, you still need to practice perfect pushing … and it's NOT like pushing out a big poo!
Knowing how to push right, having the strength to be in the position that is most comfortable for you during contractions, being connected to your abdominals so your core can work for you and not against you – ALL of that is KEY to a successful strong birth! Here are three exercises you can work on NOW for a better birthing experience.
Squatting
I squatted at various times during both of my natural hospital labors. It was part of my very long type-written birth plan, and the doula-trained nurses were ready for me! With my daughter, I used a squatting bar. With my son, I had one arm around my husband's neck and one around my best friend's neck while I squatted. My husband later said he was worried about me tearing his head completely off as I roared our son into the world.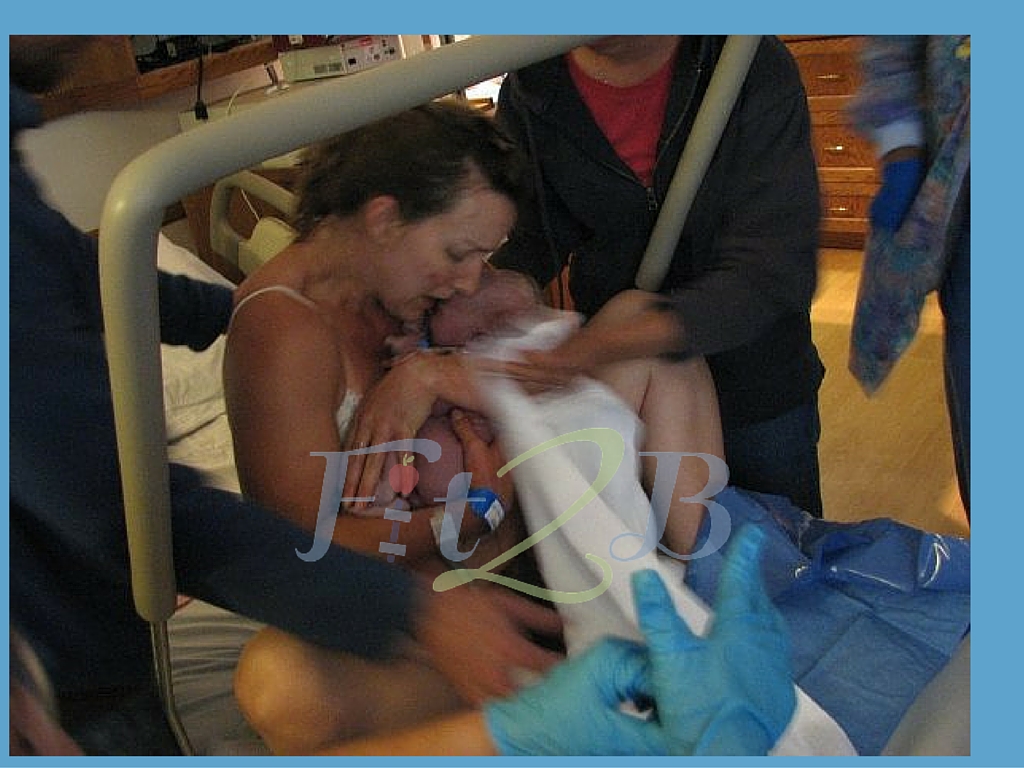 Don't assume you know how to squat just because you've watered a forest floor at some point in your life. It would be awful to come out of delivery with no tears "down there" but the start of a tear in your knee cartilage! Good squatting form is something to practice and build strength for PRIOR to pregnancy and during your pregnancy. It takes muscle, endurance and a little know-how so you don't wreck your knees while giving birth. Click here for a FREE video from Beth called "All the little things about squats."
The Deep Plie Squat – Also known as the goddess pose in Yoga. Your knees and feet should both be aligned WIDE, just outside your hip line. If your knees are wider or narrower than your feet or turned a different direction than your toes, then you are asking for cartilage damage. Find and practice this BEFORE labor so your flexibility has improved enough for you to sink into it naturally when the urge comes. Again, don't assume that getting an epidural means you won't be doing some squats. Many friends of mine who got epidurals were still placed in squatting positions by their nurses when baby wouldn't come down.
Ball on Wall – lean against a ball against a wall while doing regular squats, so that your body is upright and you don't increase

your diastasis

by leaning forward too much (good to lean forward during birth and while "spinning babies"…not good to lean forward a lot during exercise while pregnancy. READ: no planks, mamas!). Be sure you can see your toes peeking out from under your knees. Squeeze your glutes on the way up. Exhale to engage your core on the way down. If you feel any knee discomfort, adjust your stance.
Transverse Tightening
Take a deep breath and let your belly expand with air. Now exhale and pull your navel inward toward your spine. This "vacuum" or "sucking in" motion utilizes your corset muscle, formally known as your transverse abdominus (TVA). During pregnancy, your TVA gets very stretched out, as do the rest of your ab muscles, causing a natural diastasis recti (split in your six-pack). Your diastasis will close MUCH faster if you find your transverse, work it, connect to it, use it during labor, and start using it again right after birth. Tightening your transverse is more important than crunches and planks, because this is your flattening muscle that assists the uterus in pushing during labor.
Your TVA is also the muscle you want to focus on while binding your belly after birth! Many moms will see their pooch after baby comes and "feel fat" and immediately think crunches and/or planks are the answer. That is so far from the truth, and if you have a trainer who thinks that a postnatal body should do crunches or planks, sack 'em because they aren't up the current research! Before and after birth, your TVA is your best friend for getting your hot body back! Check out these articles on avoiding crunches and the role of your transverse abdominis.
This article by the

Colic Calm Journal

has some great info about TVA, crunches and diastasis, but I disagree with not laughing during pregnancy! Also, she talks about how front carriers make diastasis worse (my Ergo helped mine!)
This is a

research abstract

that studied "The Effects of an Exercise Program on Diastasis Recti Abdominis in Pregnant Women" as published in 

the 

Journal of Women's Health Physical Therapy 

Volume 29, No 1 

Spring, 2005 

The MuTu system

in the UK has some amazing info on this condition as well! She has a stellar

12-week program

for moms who are ready to heal their diastasis and start implementing fitness as well!
Side Bridge
Okay, this is one of my favorite exercises of all time. I was able to do it clear to the end of both of my pregnancies, and it's a great alternative to the plank or crunches. It won't make your diastasis worse, and it works your triceps, shoulders, medial glutes, obliques and more muscles than my fingers can type right now! What's more, the side bridge has so many modifications that you'll never get bored. We feature many side bridge (sometimes called the side plank) styles and alternatives all over in our Maternity Mix workouts! Our new mama members just love them! Do them on your elbow and knees, or on your elbow and feet, or on your hand and knees, or on your hand and feet, or add side leg motions, or hold a dumbbell and …. you see? Who needs crunches????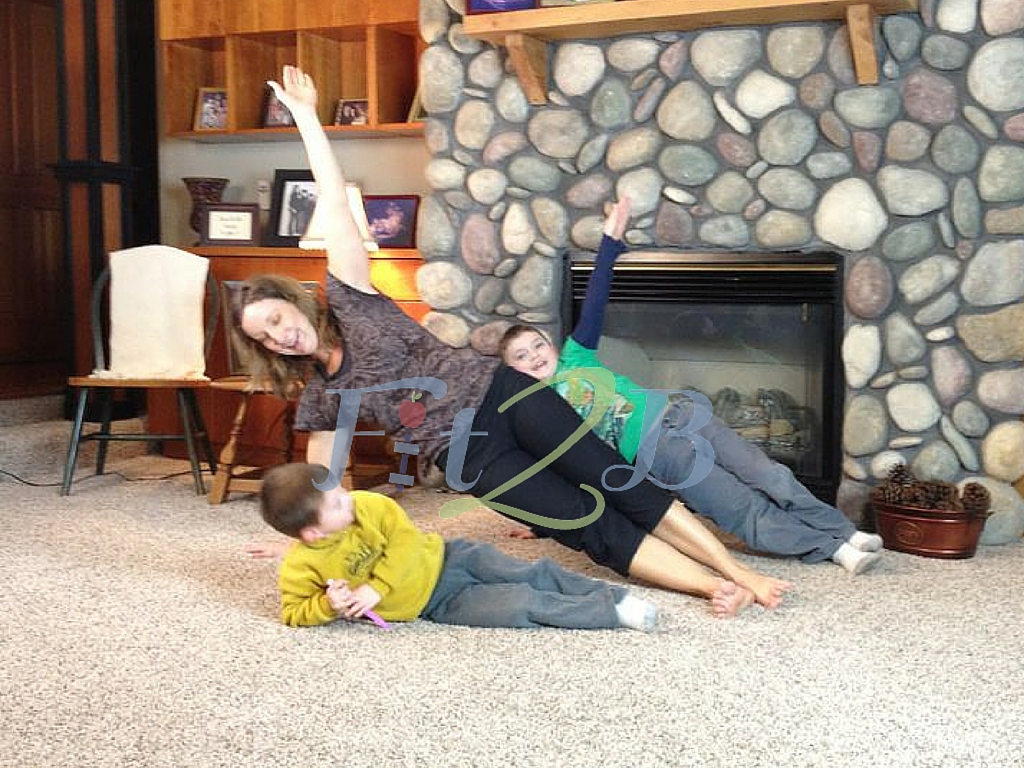 You have the strength to carry a child on the inside, and you'll have the strength to carry that child on the outside if you keep your body AND your mind strong. Your body was CREATED to give birth, to bring forth life, to nurture life. You'll know what to do in each moment of birth and beyond, but will you listen to yourself?