Ah, running… The activity that everyone thinks they should be doing to get super fit, but should you run with diastasis recti? Is running detrimental for a dysfunctional core?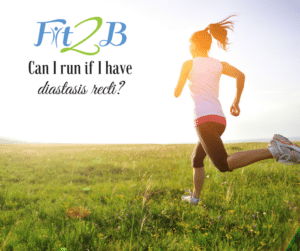 Some people truly love running; it's a release for them just like race-walking is a vent for me. I understand that if you're an avid runner, it's discouraging to have life or injury force you away from your beloved sport for a while, but I promise you'll have more strength and endurance in the long run if you take the time to fix your muddled middle.
If you're a runner who's dealing with core weakness, lower back pain, incontinence, diastasis recti, or sore surgical scars on your abdomen, it's crucial for you to take a break to address those issues with a core rehab specialist because they really are affecting your running. You need to rebuild your foundation to be a better runner.
Solve those problems — even if that means no running for a couple months — and you will be a stronger runner.
Meet A Runner With Diastasis Recti
The private Fit2B Studio Member Forum recently hosted an encouraging thread that bore

witness to how Fit2B helps runners with diastasis recti (DR). These ladies gave me permission to share their inspirational words here on the Fit2B blog.
Here's the original question Posted by Lisa V.:
"Anyone runners out there? I am/was a runner. During my pregnancy (2nd pregnancy but first pregnancy ended in a miscarriage), I ran until 8 months with no issues. After baby, I waited the two months before starting again. I was shocked to realize I leak urine when running and only while running. My midwife said that I have a 3 finger and deep DR, which I was not aware of until my 8 week PP visit. I was told, not here, that it can take months to heal, and if you want to run, just use pads. Well to make a long story short, my "baby" is 22 months old, and I still leak. I started Fit2B recently but am wondering if there are any runner directed workouts or conversations on this website that I'm not aware of? Some days I am down to a 1 finger gap. I really, really need the running back in my life. Thoughts anyone?" – Lisa V.
Running With Diastasis Recti
Here is the amazing answer and story that was posted by Lauren M.:
"I am an avid runner. After my third baby, I took a break in order to properly heal my DR. Once my DR was healed, I was very pleasantly surprised to find that when I started running again I was stronger and faster and could run for longer. It sucks as a runner to take a break, but it is worth it!! I still make sure to always keep my core engaged and I do the workouts that keep my Pelvic Floor safe and stretch and watch my posture. Because I have enjoyed the results that a healthy core produces in my running, I keep it up.
I used Fit2B workouts. My DR was 3 fingers wide. Staying motivated when you can't run is tough, girl! I decided to find a lot of joy in my daily workouts, constantly reminding myself that even if I wasn't logging miles, I was loving my body by healing it properly. I did my workouts in the morning before my kids woke up, so they became a "me" time and time to think and process, which was something I loved about my runs. I kept myself challenged by using the workout paths on the Fit2B website.
When I was confident in my ability to keep my core engaged, I took up boxing, and luckily my boxing instructor was familiar with DR! Also, I began meditating for stress relief since running had been my go-to. So basically I kept my brain occupied by setting goals using Fit2B.
It's a serious shift mentally and emotionally to go from running as a way of measuring fitness success to the slower more methodical movements that are required to heal a DR. When you're used to being completely spent, soaked in sweat, and sore for days after a "good" run, it's an adjustment to do more yoga/Pilates/weight based moves. But it's worth it, and as you progress the Fit2B workouts get you sweating a bit more each day and feeling it the next day! Beth is sneaky sometimes, you will be doing a move, thinking it's kinda easy or ineffective, and then suddenly the next day you're like 'Oh man… That seriously worked my core!' Lol."
Psst…This is the best part right here…
"I should also mention that it took about 6 months to correct my DR. Everyone is different in that area, but to give you a frame of reference for how healing a gap can help improve running: I ran an average of 3-5 miles a day at a 9-minute pace pre-Fit2b. I also was constantly having hip pain, despite foam rolling and stretching. After working on my gap and adopting the correct posture, I currently run 3-5 miles a day at a 7.5-minute pace. I have no hip pain and have been running again for a year and a half now. I still do the Fit2b workouts because I see great benefit from them in my running. This is just my personal experience though. Hope it helps in some way!" – Lauren M.
So then Jenny F. commented too, saying how this thread helped her! 
"Lauren, I just wanted to thank you for sharing your encouraging story. My twins are 7.5months, and I am struggling still with how my body looks, what it is capable of now compared to before pregnancy, and adjusting to working out in a way that is completely different due to my DR. Using Fit2B has been HUGE not only for my body, but my brain and heart are learning to be proud of what my body has done and continues to accomplish.
"I can't imagine not having these videos, articles, and tools to get healthy and strong!"
Learning how to complete daily tasks in a way that is safe and promoting healing long term is awesome. Although I'm not brave enough (yet!) to actually measure my DR, I can tell my core is changing for good and your story gives hope I can run again once my DR is healed. So very, very grateful a friend told me about Fit2B. I can't imagine not having these videos, articles, and tools to get healthy and strong! Beth Learn for all you do, it means so much. Plus it's fun when my husband does the workouts with me too because we are learning and getting healthy together!!" – Jenny F.
Why Does Diastasis Recti Merit Caution?
In closing, I'd like to quickly address why we need to be cautious when we're dealing with a dysfunctional core.
When the fascia that weaves your abdominal wall together in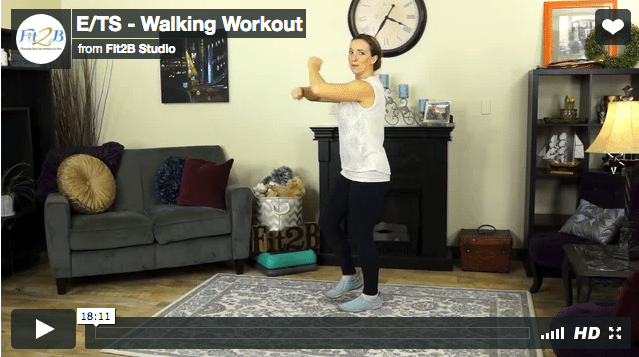 the front of your central axis is weakened and thinned out to the point of allowing the two sides of your abs to shift abnormally apart, your core has a harder time being stable.
It has a harder time holding your organs in the right places. It has a harder time keeping pressure off your pelvic floor. It has a harder time protecting your spine which houses your spinal cord which is part of your brain. It has a harder time itself with muscle firing patterns and muscle recruitment, and so then it passes the buck to other muscles to do it's work because, after all, you can't stop running when you're out in the middle of nowhere.
Fixing all the dysfunctions that caused the damage is the first step to fixing your fascia so that your core continues to function well.
Friends, leaking isn't a sign of a great workout; it's the sign of damage and weakness, and it can be fixed.
As for me, I always thought I had to run to get into good shape. I mean, we see all those lean athletes and they all seem to be running. You need to be able to run if you have to, or if a bear is chasing you, or if you need to chase one of your kids — BUT — running isn't necessary to tone up and lose weight. I'm at my leanest when I'm walking 12-15 miles a week, lifting heavier weights once or twice per week, and practicing my Fit2B style blend of pilates, yoga and body resistance at home a couple times a week. That's what works for me. I don't need to run. But I can. And you can too… after you heal your core with rehab and progress back into working out with TummySafe Fitness like what we provide here on Fit2B.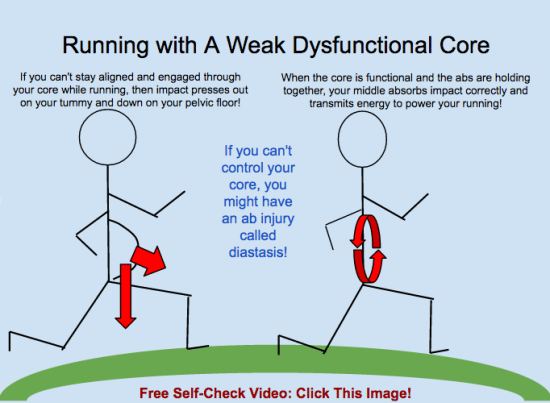 UPDATE – July 22, 2016
Jenny, the one who commented on that original thread saying how much it helped and gave her hope is back to running carefully with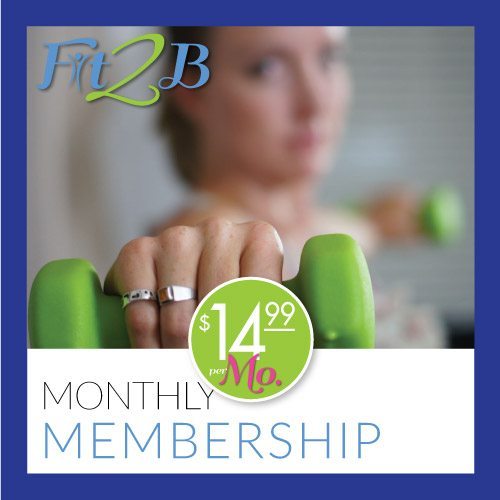 core engaged and with good form! She has stuck with her Fit2B membership, and she just posted this in our private member forum today!
"You know what is empowering? Knowing how to engage your core in daily activities and while trying to push yourself (safely!). I went for a walk/jog this week pushing my girls in their stroller while walking the dog… Yes, we look like a circus sometimes. Anyway, I alternated jogging and walking. I only allowed myself to jog as long as my core was properly engaged. No straining or "pushing thru pain" like I would previously have done before finding Fit2B. Thanks Beth for all you teach us. Even though I'm still working towards healing my DR and hope to run longer distances someday — this was HUGE for me. So thank you for bringing hope!" – Jenny F.
Fit2B Studio can help you reclaim your whole body from the inside out. You're worth it. Your family is worth it. To learn more about becoming a Member of Fit2B, click on the button below.