"I cooked dinner last night. I need a padded room now." Even though dinner turned out great, and my kids (3 & 6) both asked for seconds, that was this mom's facebook status last night. Having a glass of wine while I cook seems to help counteract the rise in blood pressure that happens when the sauce splatters, and the chicken threatens to burn, and my son pulls my pants down in his desperation to get my attention. It's all worth it, though, when my daughter wants more of something that is totally good for her.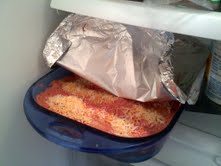 Here's the recipe, but you should know that I cook like my mother which means that anything in the fridge is fair game. Last night's cous-cous? Sure why not! Some pureed beets that will go bad tomorrow if I don't use them today? Yup! Don't worry no one got food poisoning, and if you use enough cheese …
Healthy Sour Cream Chicken Enchiladas 
2 frozen chicken breasts, whole grain tortillas, 16 oz. cultured sour cream (Nancy's), Enchilada sauce packet, 1/2-cup beet puree, 1 cup cous-cous, 1/4 cup chopped water chestnuts, 1 cup chopped cabbage, 2 cups rough-chopped kale, grated cheese.
THIS WILL MAKE TWO LARGE PANS OF ENCHILADAS!!! Woohoo! 
Directions: Cook the chicken, duh! I put the frozen breasts in the microwave for 2 minutes, making them super easy to chop up. A child will likely come in and need something urgent (like a cookie… NO, I'M MAKING DINNER!) while I'm chopping the raw meat, so keep your antibacterial wipes handy! After you chop the chicken, throw it in a pan and cook it with a little pepper and garlic until it's not pink anymore. Then add the kale, cabbage, cous-cous, sauce, and whatever else you want to sneak in there.
Make the sauce according to the packet directions. Mix in almost all of the sour cream and the beet puree. Add some of that resulting sauce to the chicken/cabbage/kale mix for flavor. Pour half of the rest into the bottom of your pans. Spoon a heaping tablespoon of the chicken mix and some cheese into a tortilla and roll it all up. Line up as many wraps in each pan as you can, but leave a little breathing room for the rest of the sauce that you will now pour over everything and smear around with a spatula. Top with a LIGHT layer of cheese, cover it with tin foil, and toss it in the oven. Bake one at 350 for 45 minutes and freeze the other or take it to a pregnant mom or someone who just had a baby.
"Her poor family" … That's what you're thinking. I swear it was soooo good! Now, keep in mind, half of this stuff was already prepared and lurking in my fridge. So it was really just throwing it together. I have "steaming days" where I process sweet potatoes, beets, spinach and other normally unlikeable stuff, pureeing it and freezing it for opportunities to sneak it in to various meals. My kids LOVE sweet potato or beet on their oatmeal. Don't even ask me what I made them eat when I was pregnant…  And I probably shouldn't tell you that I dolloped my sour cream with a spoon that I pulled out of that morning's coffee.