Would you be strong and organized enough to evacuate your home in less than 30 minutes if a blazing inferno suddenly surrounded your neighborhood like the California Wildfires? Would you be resilient and self-powered enough to live without electricity for over a month like Puerto Rico after Hurricane Maria? Would you have the resources to wait 6 weeks (or several months) while FEMA inspections and payments are delayed after catastrophic events like Hurricane Harvey and Irma?
As I relax after a workout here in my cozy farmhouse, scrolling through the horror around the world, I'm acutely aware that none of my community is physically ready. We live in a major earthquake zone under the shadow of active volcanoes, and a random tornado also took out a neighborhood here last year. However, most people I know aren't equipped to last 3 days this Winter without electricity, running water and trips to the grocery store.
My friends joke that if something ever happens, they'll be heading to our place, and it's true that I have an epic first aid kit (which I've outlined below.) We also have a big garden, firewood stocked for our woodstove, chickens that lay eggs, and goats that give milk.
But that will be barely enough for my family, let alone all of our friends knocking on our door if real disaster ever strikes!
While I'm nowhere close to classifying as an all-out prepper, I do take emergency preparedness seriously. Okay, not too seriously — I've even been known to crack a few jokes about my Zombie 'Pocolypse Stash.
The thing is, we're 20 minutes from the nearest hospital, and my stash has come in handy MANY times. No major disasters have befallen me yet, but having a farm means big ouchies.
I hate running to town every day, and our insurance plan has lousy deductibles (don't get me started) so I cannot run to the emergency room for every cut. Keeping a well-stocked cupboard with food that won't go bad anytime PLUS a gigantic first aid kit just makes sense to me.
My List of Items That Are Fit2B Stocked
I have set up a rotating delivery system of items I'd need but wouldn't be able to get my hands on easily — if at all — during a crisis that could involve curfews and looted stores. I've accomplished this by using Amazon's "subscribe and save" system to gradually stock up on valuable and hugely helpful items without going on a spending spree.

Along with various pantry items like the collagen I put in my coffee each morning and healthy energy bars for the kids lunches, I have casually and gradually built up the following stash of things I might have cause to reach for on any given day, but especially during a time of need.
Fit to provide first aid
As a fitness professional, I've had to maintain my First Aid & CPR training for years. These items should be in everyone's kit plus you can easily get them on Amazon.
Don't forget about OTC medicines & supplements
What if you or a child has allergies? What if someone gets a cold or starts coming down with the flu right after disaster strikes and the hospital ER is overrun with major injuries? You need to be ready and fit and healthy enough to handle that on your own!
You need the following items anyway, and keeping a 1-year surplus will only benefit you. Think of all those times someone throws up or gets a nasty headache and you have to leave to go to the store. Stock it, and you won't have to go anywhere. You'll be ready!
Iodine

 —

 To fight radiation.

Activated Charcoal

 —

 I swear it stops puking in its tracks!

Cayenne Pepper

— Research how it helps wounds. 😉

Essential oils rock! I'm not recommending a specific brand. Do your research.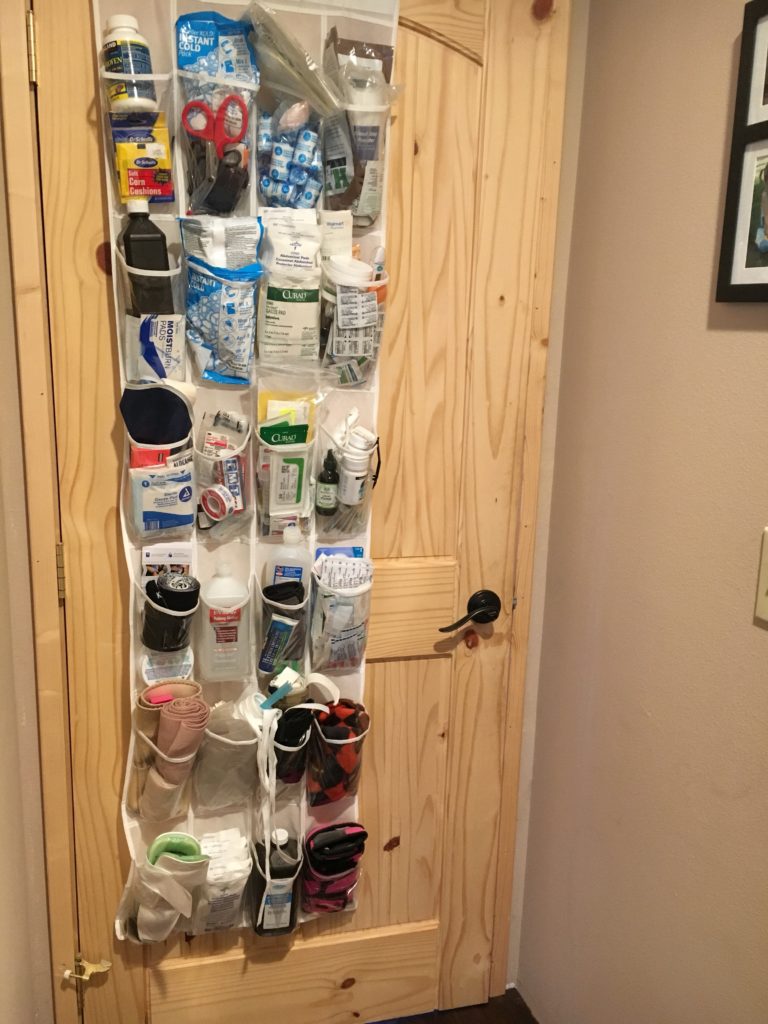 Bumps, bruises, strains & sprains…
Non-life-threatening injuries that don't bleed still require attention and care. When we have electricity, we can easily reach for ice packs in our freezers and plug-in heating pads for sore muscles. If we need a splint, we run to the store. What if the lights go off and the power doesn't come back on for days and weeks? Consider stocking:
What About Basic Self-Care?
When I started paying attention to all the things we use on a daily basis that we might need but not be able to obtain for weeks during a crisis, my brain almost exploded. Babies need diapers, and women have periods. However, here's something cool…
These everyday items do double-duty for first aid:
Stock up on water and food, but remember…
When the poo hits the pavement, and lack of electricity affects refrigeration and running water, all that frozen food and those gallon-sized cans of dry "add water" emergency food will not be ideal. Go ahead and stock them, and I'm listing a few of my faves below BUT try to stock just as much food that doesn't require you to add water to make a meal.
Having water to drink will be the most important thing. You can last weeks without food. You can only last days without clean water. If you grab a gallon of water or a couple extra cans of food each time you're at the store, imagine the increased fitness for disaster you'll enjoy if it's ever needed.
Items for Trading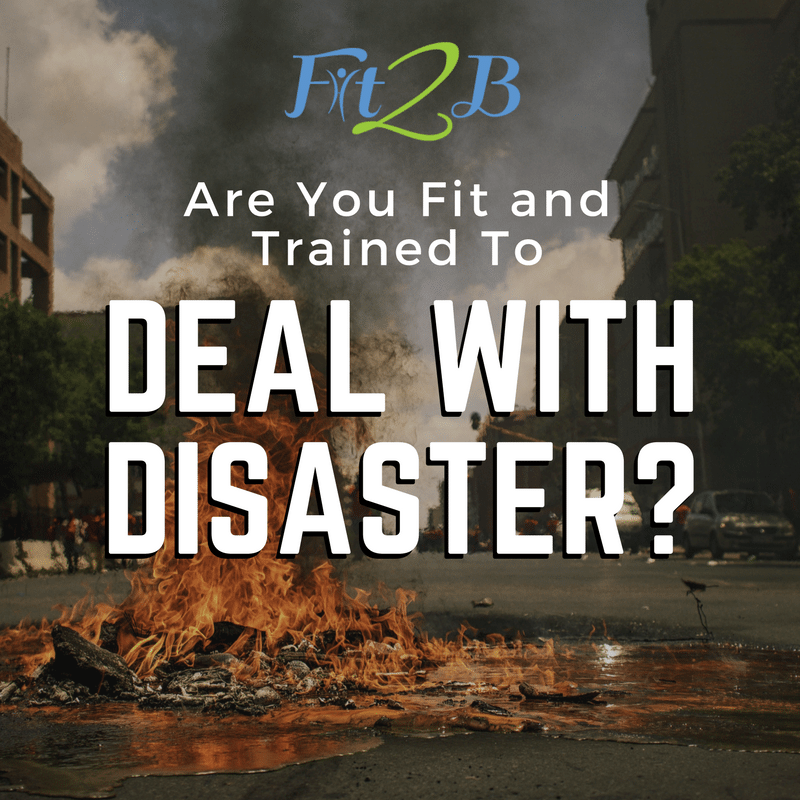 If the economy were to completely collapse, items for trade would become an immediate commodity. The following items are things I use anyway. They keep well, and they also would be ideal for trading.
That last bullet point isn't available online. I don't smoke. I don't drink very much at all. To be clear, I do not have any cigarettes in my house. I think it's a very unhealthy habit to smoke and drink excessively, and it's also addictive. Other people enjoy them though, and if I should need medicine for my kid, those items would have a high trading value. Just sayin'…
Friends, I seriously hope none of this is needed for a crisis!  
Right? Sometimes I read ultra prepper blogs and get the distinct impression they almost want something bad to happen so they can put all their athletic training and pantry prepping to work. They seem disappointed that the world isn't coming to an end. Wha???
I'm not training my body with a disaster at the forefront of my mind, but it's part of the picture. I want to be able to keep up with my kids as a fit mom, and I want to be able to carry them if they need me. Just the other day, my 12-year old daughter twisted her ankle on a hike and I had to piggy-back her for a quarter mile!
I'm not stocking my cupboards with an imminent earthquake making me panicky. I'm exercising and preparing my body and home for daily life, so I get things I need on a regular basis. Things which I will continue to need, should my neighborhood ever be struck by anything. 
Let's put it this way: If we…
Are healthy and fit for the gym and our workout, but we can't carry our injured child…

Are relying on daily trips to the store for food…

Are relying on potentially crowded emergency rooms to stitch us up if we slice our hand badly…

Think a garden and a few chickens will save us…
Then we need to evaluate those dependencies!
We also need to ask ourselves if we want to be the ones wandering the roads looking for help or the ones helping. I want to be the one helping. I want my family to be ready, and I want to have enough extra to lend a hand to other families.
Back to You!
What are your thoughts on this? What kind of items do you stock? How are you preparing for a potential disaster? Share your thoughts and join the discussion by leaving a comment below!