About The Instructor, Bethany Learn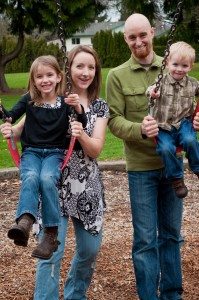 Bethany and her husband live in the Pacific Northwest with their two children. Prior to having kids, Bethany worked as a full time assistant manager for a fitness facility with over 800 members located inside a federal building. Her job responsibilities included all aspects of management and customer service as well as personal training, designing and leading exercise classes for all demographics, writing and editing the club's newsletter, delivering brown-bag lunchtime lectures, designing and implementing new group fitness formats, and creating member retention programs.
"I signed up recently, and, seriously, your workouts are changing my life. I tell everyone about your site." -Fit2B in Ohio, Kelly D.
Bethany became interested in fitness at age 16 when she showed up to her first step class wearing a dress! She had no idea what to expect, but she was instantly hooked! At just 18 years of age, she became certified through the Aerobics and Fitness Association of America (AFAA) and she has maintained that certification with a wide variety of courses and workshops and personal research for 16 years. Bethany also holds a bachelors degree from Oregon State University in Exercise and Sport Science with her option in Fitness Program Management which she obtained in 2001.  And to think her first major was stated to be political science!?!
"Yay! I'm so excited! I had an appt with my physiotherapist today and my diastasis has gone from 2.5 to 1.5 fingers!! Thank-you so very much, Beth Learn!!" -Fit2B in Ontario, Canada, Christine G.
Throughout her fitness career, Bethany has taught step aerobics, cycling, water aerobics, group weight lifting, senior fitness, pre/post-natal exercise, and dance aerobics as well as Pilates and Yoga. Her love for choreography and rhythm contributes to her flowing, joyful style in all the content that you will find on this site. You will discover that she enjoys sharing and learning any technique that might help you in your spiritual and physical journey, and thus her diverse approaches to teaching create great variety. Bethany's unique brand also covers diastasis friendly workouts!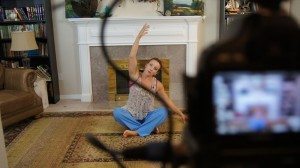 Bethany is "fit to be" the founder and main instructor of all the workout videos within Fit2B Studio because she has a real passion for making fitness accessible to everyday people, especially those who find even the simplest movements daunting. She loves helping busy parents and those with limiting diseases and disabilities to approach exercise with confidence and enthusiasm.
How motherhood changed her …
Once she became a mother, Bethany began lessening her work-load outside the home, focusing on her children. Her niche in the fitness field shifted from trying make every one sore to helping people heal. She developed a heart for true beginners and people starting over. As a mother herself, she saw how hard it is to get back into a fitness groove, and her diastasis-aware workouts are the perfect solution to that, allowing women to unmuddle their middle without ripping their bodies apart. You will love Bethany's soothing voice, down to earth visual analogies, and the heart she has for YOU as her member.
Bethany's hobbies include "The Shabin," a rustic little shabby shed that she and her husband are converting into an off-grid sustainable cabin on their family's land in Montana. She spends her downtime reading historical fiction, participating in the MOMS (moms offering moms support) group at her church, and racing dragon boats with the Castaways.
"I've been working out with your Totally Transverse exercises for 2 weeks now and I have to say WOW!! At first I couldn't really feel my muscle working, but as of today I can control and feel it from my pubic bone all the way up to my ribs and its actually started moving around from my spine as well. I am really feeling great finding so much control with it. Also have shaved 2 whole inches off my belly as well. Thank you! I cannot wait to start moving into other workouts while keeping these as a daily staple." -Fit2B in Kansas, Christine J.
Qualifications
Bachelor of Science, Exercise and Sport Science (fitness program management) from Oregon State University. Go Beavs!
Group Fitness Certification, Aerobics and Fitness Association of America (AFAA) Personal Note: I'll be letting this one expire this year because their training doesn't align with current research on the the core and pelvic floor in my humble opinion, and they won't respond to my queries on this. To maintain this certification, I've taken a wide variety of courses adding up to 15 CEC's every two years for the past 16 years, including but not limited to…
I found the above courses to be helpful leading up to and during my college years, but most of the anatomy information is only applicable to elite athletes and conflicts with current biomechanist standards of alignment. So I am in search of a better certifier that will allow me to create video content for my members based on what I'm learning with my personal research, preferably something that aligns with current research on diastasis and that doesn't take all it's queues from ACSM which still says situps are okay for pregnant women!!!! They're NOT and cause a wider diastasis recti which lengthens the postpartum recovery period.
Recent Coursework:
Prenatal & Postnatal Yoga (audited through Holy Yoga)
Beyond Kegels: Understanding the Pelvic Floor with Katy Bowman
The Importance of Core Strength for the Prenatal and Postnatal Client- Practical Application for Labor and Delivery Professionals. with Kelly Dean of The Tummy Team (brag: she's my personal mentor and helped me close my diastasis recti!)