What do you tell women who are trying to lose that post-baby line of fat around the belly button? Does it sometimes not go away? (And if that's the case, what do you say?) This question came to me in an email from Jenn Sinkler of Experience Life magazine, and here's how I answered it in my email back to her 😉
It really is worth a full article, this question you've posed about that last troublesome line of fat on a mother's belly. What I often ask the mother is "Why? Why are you so worried about it?"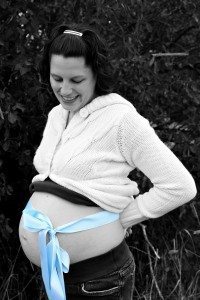 If the mother is still nursing, she shouldn't try to lose all her fat, because she needs it to lactate and to restart her period.
If the mother has young ones, they need a soft belly to rest on, to relax against… and so many mothers OBSESS about it when they should either…
a. Accept it if their overall bodyfat is within normal, healthy ranges
b. Determine what the culprit really is…
Most moms don't really want abs of steel – we just want our core back – but we feel driven to "keep up" by a society that obsesses about six packs! Our husbands are perfectly happy with a softer body with a few extra curves. BUT IF A MOM REALLY WANTS TO GET RID OF that extra line of fat for healthy reasons (not just because she's tied her self image or body image to have fat-less abs) then – again – the real culprit must be located. Is it…
a. Diastasis –this is always what I look at first because a distended transverse abdominusthat has never been reactivated after having been stretched to its limits is often the culprit behind the "extra tire." If it's a client of yours, perform the check yourself – not at a full crunch, but just as the head lifts off the floor. CLICK HERE to watch our video showing how to check yourself for diastasis. This image is from Tupler's super awesome campaign!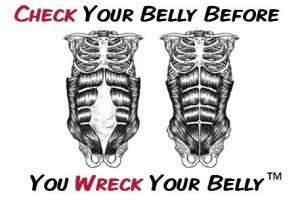 b. Extra skin – The epidermis has a HUGE job during pregnancy, and if the woman genetically has dry or inelastic skin, then she will have more stretch marks, and her skin may never truly totally bounce back, resulting in that extra flap. Surgery can fix it, but again, what have we done as a society to make mothers feel so ugly for their residual battle scars from pregnancy? They should wear those reminders with pride! (I myself have a bit of "extra skin" under my navel.) Hyrdration is a huge player in getting skin tone back, so drink water, mamas!
c. FAT!!!! – Some women just need to face that their bodies are hanging onto fat. Mine was, and for me it was protein-related. But whether it's hormone related, nutrition related, sleep related, or not-enough-exercise related, I've also seen far too many mamas eating garbage while feeding their kids healthy stuff. Then they complain that they don't have the body of their dreams? Many moms are lacking protein like I was. They are exhausted from nursing and late nights, and then they go straight to the simple carbs. When you're depleted from lack of sleep and lactating, you need to fuel your body so it gets out of starvation mode!
Now I ask my readers, what do you think about that "extra line of fat" and how it affects your mental and physical outlook? Please comment!