We are delighted that Fit2B Scored High in Review of POP-Safe Exercise Websites. We have been selected as one of the leading platforms for women seeking exercise help with pelvic organ prolapse (POP) in concert with pelvic floor therapy. Since our main focus is Diastasis Rectus Abdominus (DRA) and pelvic health as it relates to core strength, it's a huge honor to have received notice of this positive review which was completed in 2019, and  we came out really well alongside many stellar colleagues and peers we admire in the online rehab sector!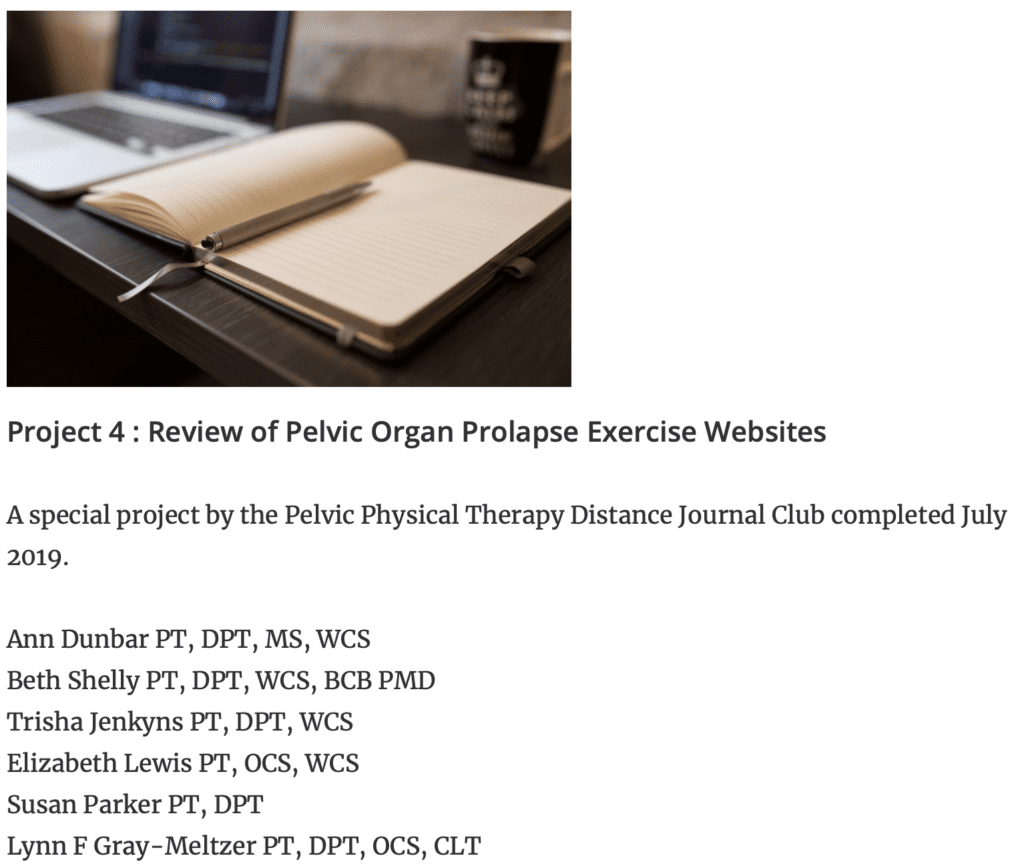 How Fit2B scored in this 2019 review of POP-Safe Exercise Websites:
We received 26 out of 30 on their scale, and our reviewer said we are "a very informative website created by a fitness instructor and mother with a passion for women's health and "tummy safe" fitness. Subscription based programs full of both low and high-level exercise videos mostly for core, with a few comments specific to pelvic floor and breath work. This website also contains a plethora of educational materials, both written and video based. Exercises are designed to be easily performed in the home in everyday clothing. The overall tone of instruction is very soothing and encouraging. Bethany discusses strategies for individualizing exercises and exercise progression based on one's own ability to maintain good form. Author gives practical suggestions for body mechanics with everyday tasks, especially postpartum. The postnatal exercise track includes a good discussion of breathing diaphragm and pelvic diaphragm relationship to address the importance of regulating intra-abdominal pressure. Approximately 400 blog posts cover a variety of subjects from healing after birthing to diastasis recti self check and discussion of planking safety."
What Fit2B Provides for Pelvic Floors
Our mission is changing lives one tummy at a time with family-friendly, Diastasis-aware home workout videos that compliment work done in physical therapy. Our goal is to continue your healing progress, not undo it. Because many people turn to fitness first to "get their bodies back" after pregnancy – and most aren't aware that physical therapy is even an option –  nearly every workout  we offer includes cues for understanding whether pelvic floor therapy might be needed…. which it often is.
This particular review pinpointed the fact that Fit2B is NOT a "pelvic organ prolapse program" like those that ranked higher than us (so I was honestly and pleasantly surprised that we scored so high). We are essentially a huge library of workout videos and courses that include helpful information about the pelvic floor. So we were grouped with others who are best used alongside or in addition to personalized rehabilitation with a specialist, and we wholeheartedly agree! We believe a team approach is needed for full, holistic recovery from issues related to core dysfunction like hernia, diastasis recti, and pelvic organ prolapse. Pelvic floor-aware fitness is just one piece of the puzzle.
Sadly, this world is lacking in quality pelvic floor physical therapists in every city, and many PT's aren't sure where to send their clients to workout safely when they're done with therapy. Fit2B serves thousands worldwide who don't have affordable access to local rehabilitative services, and we are delighted to be recognized for how we "stand in the gap" in this way. Here is a client's story about how we helped her with POP.
Some Unmentionables
A couple of our favorite providers of rehabilitative programs for pelvic organ prolapse weren't mentioned in the review. Maybe the reviewers weren't aware of them, or maybe they didn't meet the outlined study constraints. Regardless, you should know we think these POP-Safe peeps are the bees knees:
The Tummy Team
SNATCH & POP UP
Leave A Comment:
Has Fit2B helped you with your pelvic organ prolapse? What other programs for POP have you heard about or used? If you read the review, and you're familiar with Fit2B, what did you think about what it said?