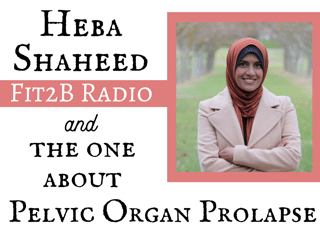 Hands down, Heba is the most interesting, bias-shattering guest we've had, and you can bet we'll have her back! She is completely unafraid to tell it like it is, so we went there. Oh, we so went there because, friends, POP affects people globally, from all backgrounds, regardless of their beliefs, culture, sexuality, etc. Seriously, you need to WATCH this episode and SEE our deep discussion about many things: pressure, pessaries, diastasis, pelvic organ prolapse, sex, kegels, endometriosis, and also how our faith/belief systems can affect how we approach those things. It. Was. Epic. Some people might look at Heba and Beth and think they couldn't be more different, but they are working together from opposite sides of the world to raise awareness on the same issues! Get ready for some goosebumps and brain bending. This one is a delightful doozy!
"It doesn't matter what race, background, religion or where you're from. We're all women, and we're all entrusted with this body that we should be taking care of." -Heba Shaheed, The Pelvic Expert
Heba has this free 7-Day Pelvic Floor Challenge just for our listeners!
---
Fit2B Radio Cam