In the 2008 Olympics, a volleyball player named Kerri Walsh Jennings won gold while wearing Kinesio Tape, which had been invented in the 1970s by Kenzo Kase, a chiropractor in Japan. Suddenly, the concept of taping trouble spots went mainstream, but using tape on tummies with Diastasis Recti has only recently gained attention. In this blog, you'll find two videos showing how taping can be a tool for supporting abdominal separation and my top tips on how tape can be used effectively.
What about taping Diastasis Recti?
According to a 2017 study by Awad et al, Kinesio taping effectively reduced diastasis rectus abdominis in the postpartum phase. In that study, the tape was applied for 3 days on, 1 day off, over and over for 1 month. When compared to transverse abdominal (TvA) recruitment, taping was found to have similar yet minimal impact in a 2018 pilot study Tuttle et al. The takeaway on that one from my colleague and research partner, Graine Donnelly, PT, is that taping provides proprioceptive stimulation to engage the TvA. To me, this means that taping alone can do just as much as TvA work, making it useful when someone is having a hard time connecting to their core. My DRA has been closed for years, and I find that occasional taping helps me feel things more.
About k-tape, Laurey Lou says, "It's an elastic tape that provides sensory input into an area, but still allows for full range of motion."
Lou is a physical therapist and certified strength and conditioning specialist at the Hospital for Special Surgery Sports Medicine in Westchester, New York.
I follow many physical therapists who use tape on their clients with Diastasis Recti. It makes sense! Julie Tupler even designed a taping kit with 30 pre-cut strips specifically for this.
While many people might have seen the white athletic tape used to tape ankles in sports like American football, that is a very stiff tape which intentionally restricts the range of motion for support purposes.
Buy your diastasis taping kit here
Kinesiology tape uses more gentle support to facilitate natural range of motion and circulation, meaning it can be applied for extended periods of time.
My chiropractor taped my trapezius muscle when it was spasming, and it instantly calmed the pain. When I was in high school, running hurdles and dealing with patellofemoral syndrome, my physical therapist taped my knee to help me feel its alignment better. Just the other day, I taped my son's ankle after he twisted it on our trampoline. I couldn't see any visible swelling or bruising, and he's also going through a growth spurt. As soon as I taped it, he walked more normally — something he can't fake at his age.
That time I was a taping model…
Here is a still screen capture from the video below about taping Diastasis Recti that I filmed with Kelly Dean of the Tummy Team. It might be the only video I've ever been in where I'm not talking 😃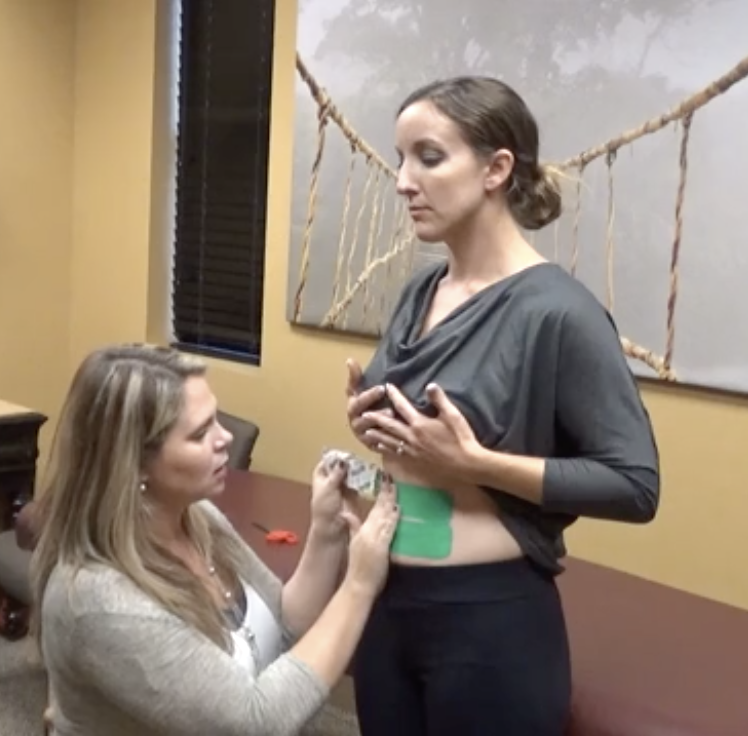 When would taping help Diastasis?
Using k-tape to support a Diastasis Recti makes sense in certain scenarios, but it's not for everyone with abdominal separation. I think it may serve in the following situations:
When splinting the abdominals would offer too much support, taping your abs will offer a little support and a lot of sensory feedback about your posture and intra-abdominal pressure (IAP) because you can feel the tape stretching
When your Diastasis Recti is narrowed some or even all the way, but you want to be able to better connect to your core muscles while exercising and moving throughout your day
When splinting is warranted but not feasible due to sensory issues, body size, personal preference, then taping can "stand in the gap" and offer flexible feedback
A few contraindications for taping a tummy include paper-thin skin that would be damaged by the removal of the tape, skin that is sensitive to the ingredients in the tape, and sensory issues stemming from adhesive bandages … For example, my daughter hates anything stuck to her. It sends her into a panic because it reminds her of a horrible hospital visit she experienced as a toddler, so taping wouldn't be ideal for her.
My Favorite Tape for Diastasis
These videos are just two of MANY videos included in the online core rehab programs provided by The Tummy Team. We are so grateful to The Tummy Team, a clinic that specializes in core rehab, for granting us permission to share these videos about how to tape Diastasis Recti. We wish everyone could have access to top-notch physical therapists in their own home towns, but sadly not everyone has that level of access or privilege. 
Listen to our podcast about taping!
Tips on Taping Your Diastasis
You can't just slap the strips on your belly. There is a lot of technique involved, and ideally we would all be living within 50 miles of the perfect physical therapist who specializes in core rehab and could teach us how to tape our abs. However, many of my clients don't have this privilege. This is why Fit2B exists online: to literally stand in the gap, providing affordable exercises and education to those who don't have access to professional help due to distance or budget.
Meanwhile, here are my top tips for using tape on your Diastasis Recti: 
Watch the videos in this post which are part of The Tummy Team's Core Integrations online rehab course and read the directions on your tape.
Be sure your skin is clean and free of oil and lotions before applying. Smooth the tape down and rub it gently after applying to "seal" it so it lasts a few days. You should be able to shower with tape not coming off if it's applied correctly. The tape will start to peel or roll after 1-3 days as it wears.
Never rip tape off the skin on your abs! Hold the skin down with a couple of fingers while slowly pulling it, continuing to shift your fingers right up against the removing tape.
As the video below explains, apply the tape when your abdominals are gently engaged. That way, the tape will provide feedback when your abs are distending and pooching. You'll be able to relax your abs, but you'll feel that happening. Relaxed abs aren't "bad," but sometimes you want them to stay engaged for a hot minute, and if you have trouble feeling that happening — or feeling when your core is releasing when you want it to be engaged — the tape will help a lot!
Remember the tape is there to serve YOU, not the other way around. Ditch it if it begins to trigger sensory issues or if it hinders your mental health. Taping isn't worth sabotaging your overall wellness.
Unlike splinting, which is another tool in your Diastasis Recti tool box, you can't just take tape off and put it back on a few times a day like a splint, or your skin will get irritated. Think of k-tape as a "sticky splint" that you leave on for a few days at a time.
Share your thoughts on taping diastasis!
What do you think about using kinesiology tape for Diastasis Recti? Have you ever had an injury taped before? Did it help or did it bother you? Are you a physical therapist or athletic trainer who sees the benefit of taping your clients? We would love to hear from you in the comments below!