Cartoon images were popular when Fit2B launched in 2010, so our original logo was a gal we called "Molly." She is still represented on our Roku Channel, and we had some cartoons drawn (scroll down) of her everyday life to remind all of us that we aren't alone on our fitness journeys.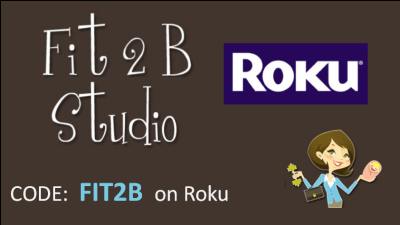 Molly looks a lot like I did when I first started Fit2B: she's got a baby in one hand, weights in the other, and a purse slung over her elbow. But Molly's journey hasn't been easy; getting "fit to be" balancing a busy schedule of homemaking, mothering, networking, volunteering — all while harnessing whatever skills she has to help pay the bills — takes strength and endurance from her core.
Like every mom, Molly has a story, and one of our members in New York, Lynn Andrews, is a talented artist who is going to illustrate Molly's tale of becoming a Fit2B Mama … Has something similar happened to YOU while you tried to workout at home?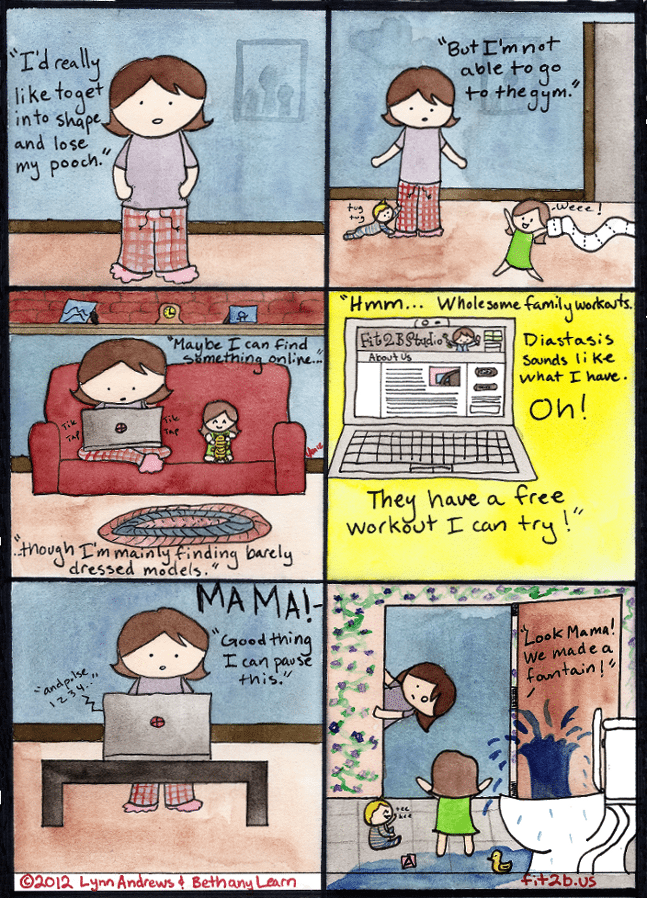 This gal Fit2B Molly has been in my shoes. She's you. She's me. She's every mom who barely has time to get dressed in the morning, let alone find time to herself. At least cleaning up the bathroom involves full-body movements that can be a warmup for the rest of the safe, gentle, effective, and FAMILY-FRIENDLY video workouts we provide here on Fit2B Studio, right?
How does Molly find the time?
… how do any of us find the time?
My top three tips for moms trying to minimize interruptions are to let them pick a kids workout first — then it's "mommy's turn" — and to purposefully occupy your offspring with something like a snack, a special basket of toys, or a short show. Third, be firm and intentional as you model finishing what you started. Here's Molly getting some help with finding time to work out …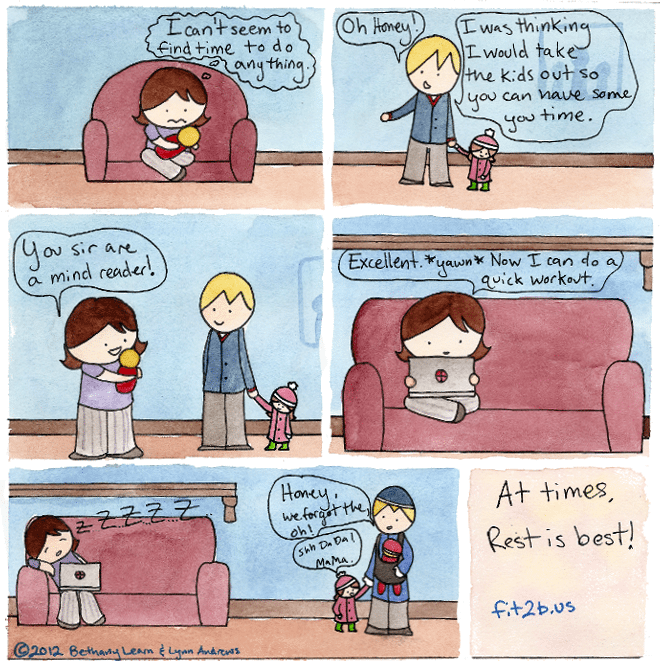 I sure love Lynn's art! And I've so been in Molly's shoes. Finally get some time to myself, sit down to take care of some "me" things, and fall dead asleep! Can I just say that if this happens to you a lot, it's your sign — a sign that you're exhausted and to rest when you can. We all need movement, but keep it gentle if you are already tired. A tough, strenuous "psych yourself out" routine will just elevate your cortisol (stress hormone) more!
I'm a big fan of working out every day, but only if that means moving your body in a variety of sustainable ways you enjoy. The recommended minimum is 150 minutes of accumulated exercise per week. Exercise means to move yourself on purpose.
I mean, isn't my heart rate as a mom always up, and aren't I always moving?
Ha! Well, no … but even sitting and nursing for 11 hours a day (low average for newborn mothers) can be exhausting and use tons of energy. So I applaud my members who listen to their bodies and take a day or even a week off when needed.
One of the biggest traps that busy moms fall into is NOT counting their daily activities as exercise and being more intentional about their alignment and breathing during those times AND then thinking they still need to "work out" … and we wonder why we're so tired all the time?!
When Molly Dressed Up Like Diastasis
How have I never done this? I have dressed up like Wonder Woman, like Raggedy Ann, like a Roman, like a unicorn … I need to do this. Maybe I'll just paint a diastasis recti right onto my belly.
"How did I not know about diastasis recti?!?" I still hear that far too often.
"Why didn't my OB check my stomach for this gap and give me a splint?"
"Why did my chiropractor not know what it is and tell me to do crunches to help my back?!?"
Experts In Diastasis Recti Ecourse
How can YOU raise awareness?
I recently had a very well educated colleague lament that she didn't know more before her first baby. She had a lot of complications that she feels like no one discussed with her beforehand.
Friends, it's up to us to help spread the word and help each other heal. We cannot tell our stories enough. We cannot share links to helpful resources enough … mostly because we are tired and might not see it the first time, eh?
Here is the VIDEO to check for diastasis recti
Click HERE for free handouts you can print about diastasis
Here are FREE sample workouts & other resources from Fit2B you can share
Leave A Comment
What should our next Fit2B Molly comic be about? Have you had any hilarious moments interrupt your workout lately? What's your current fave Fit2B video?