Join us for a giveaway and sale as we celebrate Beth's 39th birthday and 8 years of filming home exercise videos! Enter to win a wonderful gift below, and then check back on Thursday for the winners and our sale on March 29th & 30th.

On March 29th-30th, all ecourses will be 39% off. The signup fee will be waived on basic monthly memberships, and both 1-Year and Premium memberships will be $39 off!
SquigglyBugs 
is giving away a Mama Bundle which includes a Mom t-shirt, a piece of Itzy Ritzy jewelry, plus a variety of treats just for mom (tea, chocolate, samples, etc)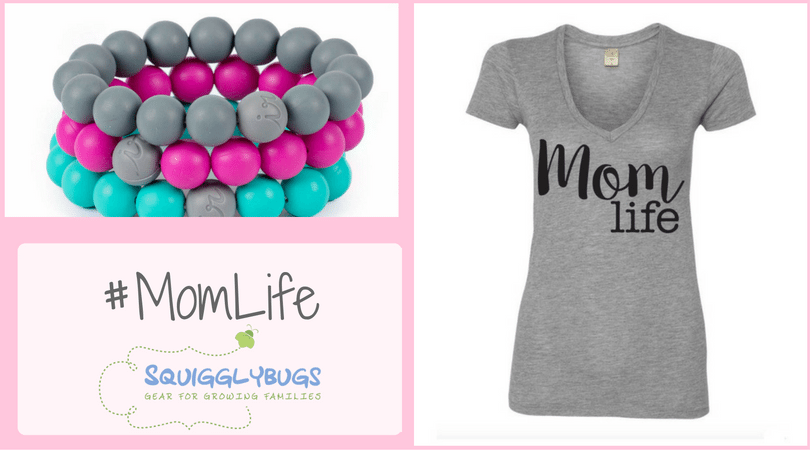 Squigglybugs is a fun little shop that is your one-stop shop for natural baby care products, but also for your entire family! They strive to carry the very best in environmentally friendly, reusable, safe and natural products for children and their parents. They carry everything from cloth diapers, feeding accessories, to items for Mamas and skin care.
Get 10% off your order until June 1st with code: "Fit2B"
(one per customer please)
Click below to register to win:
Spark of Amber is giving away a $50 gift certificate!

Spark of Amber sells authentic amber that comes from Lithuania and the Baltic region. They offer free shipping on all orders to the United States.  They offer teething necklaces, amber earrings, custom mother's bracelets, name and initial custom bracelets and so much more gorgeous jewelry!
"I received my first Spark of Amber teething necklace in 2012.  My daughter was a few months old.  I had heard that it would help with teething… plus, it was really cute.  My daughter wore the necklace all the time but I didn't really know if it was helping with teething pain until I took it off.  She was around 9 months old and I took off her Sunny Days necklace to clean it.  I forgot to put it back on.  My husband and I were up for the next 2 nights and our happy baby wouldn't stop crying!  During the second night my husband asked me "where's her necklace thingy?"  I put it back on and the next day our happy baby was back.  That made both my husband and I a firm believer in Spark of Amber and the Sunny Days Baltic amber necklace!  I used the same necklace on my son 3 years later.  I babysat a little guy that was teething and drooling horribly.  He was soaking through a bib in about 30 minutes.  I put our Sunny Days necklace on him for the day and the drooling stopped!  I took it off about 30 minutes before him Mama arrived and his shirt was soaked when she picked him up."
~Nicole Cox – Fit2B team member
Get $3 off your order of $20 or more with code: "SPRING"
Click below to register to win:

The Tummy Team is giving away a program of your choice to 2 winners!
The winner will get to pick the program that works best for them.  Not sure which Tummy Team program is right for you?  Then take this survey and The Tummy Team will help you decide. https://www.surveymonkey.com/r/ChooseOnlineProgram
Click below to register to win:
 UnShoes is giving away a pair shoes or sandals!

I've followed Unshoes for a while on Instagram and love what I see, so I finally asked them to send me a pair to try. Their unique and personalized sizing process is fabulous. Want more padding? Want a narrower sole? Want a wider toe area? Want your toe strap in a different spot? You got it!  Choose from closed toe minimalist shoes along with several styles of sandals.
Each day we are bombarded with subtle messages that imply that we are not good enough. There is a never ending supply of products that supposedly do something better than what you could do on your own. I like Unshoes because their message is the opposite. They exist to help us move naturally and comfortably in our own skin. They believe we're already functional,from the ground, up. Unshoes creates minimalist sport sandals and a few closed toe options that strike a unique balance between ancient and contemporary design which I find very appealing www.unshoesusa.com
Get 15% off through April 8th with code: "fit2be15"
Click below to register to win:
Squatty Potty is giving away a Squatty Potty!
If you aren't squatting, you're doing it wrong!
Those pics are from MY house! I have three Squatty Potties, and I love this new 2.0 Adjustable one they sent me that has an attachable riser. Notice my son at our "squatting work station" in the background of me holding it so you can see the underside. The far right shows how it stacks up. The middle is my old original one that isn't as streamlined.
Squatty Potty is the original toilet stool that helps you squat to poop. Squatting unkinks the colon making elimination faster and easier. The Squatty Potty is available in a variety of sizes and styles, so you can find the stool that is right for you.  Isn't it time you enhance your entire bathroom experience?
The discount will be applied when an item is added to your cart.
Click below to register to win: