If crunches and crunch-like motions screw up your connective tissue by bulging that area, not flattening it, then what's a person to do? How can you un-muddle your middle without buying into some weird gimmick, pill or lotion? Here are my top five suggestions for simple, safe movements that will strengthen and flatten your midsection while allowing your connective tissue to heal and come back together! My top five non-crunch, no sit ups involved, abdominal exercises are ranked by what came to my mommy-brain mind first, and they are as follows… 1. HULA HOOPING
  I could have put anything here at the top, like my own workouts for example, but anyone can hula hoop – or at least burn some calories trying – right? Using a basic or lightly weighted hula hoop can be a fun workout, and this upright exercise forces "kids" of any age to draw their navels in to create a place for the hula hoop to rotate about their midsection. The gentle motion is awesome for your legs, hips and glutes. PLUS it's impossible to HH with your arms relaxed, so you've got some good upper body movement going on, too! 2. BELLY BREATHS - You are wondering when breathing became exercise. Well, proper breathing requires a major amount of movement and work in your core. I wrote a clear-cut article about belly breathing for great abs for Pretty Hard Work, but they have other articles that show a lot of skin and advocate for crunches. Boo! Still, I'm grateful they took my article. Yay! So go read THIS ARTICLE and learn how to turn your core into your natural belly binder! 3. GATE POSE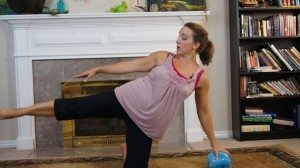 The Gate Pose has got to be my all time fave Yoga pose, and I love adding side leg Pilates motions to it. This move gets a lot of use in my workout videos here at Fit2B Studio because it works your obliques without twisting them, and it flexes your whole core without stressing your linea alba (seam in your abs… like the seam in your pants IT CAN RIP under pressure!) 4. POSTURE BREAKS - Again, you might be wondering when sitting up straight became a workout. Well, sitting up straight got a lot harder when we started sitting in terrible chairs and car seats that are either totally non-supportive or so supportive that our core is dying all day. When we slump, our bellies pooch out. When we rest our elbows on the table or knees, our bellies hang down and protrude if our core is weak. Form follows function. If you want a strong, flat core then sit up straight. Take posture breaksall throughout your day:
Stand up or at least shift to the edge of your seat.
Lift your hips up off your hips.
Put an imaginary pillow between each vertebrae of your spine.
Square your shoulders, retracting and depressing your scapulae (shoulder blades).
Lengthen your neck and let your head float like a helium balloon.
See? Your belly is already flatter!
5. WALKING – Really, not running? No, not if you already have a belly bumping around. Have you heard of gravity? Do you know what happens to a wet paper bag full of groceries when you shake it REALLY hard? So… walk. Walk. Walk. (that link takes you to an awesome article about walking) We are made for walking. It's low impact. It works the entire core: glutes, pelvic floor, abs, hips, EVERYTHING! If you can't walk, crawl. If you can't crawl, wiggle. Go back to baby basics and work your way up. It's how we all started. Why no crunches? Crunches do more harm than good because… 1. Crunches imitate slumped posture:  when the head and shoulders lift off the ground, that's the same position as when you slouch in a chair, only from a different angle. Do you want bad posture or good posture? If you want good posture and a functional core, do exercises that operate around good posture. 2. Crunches bulge the belly: Do a crunch. Does you belly go in or out? One of the most basic principles of fitness is that "form follows function." Didn't your mother ever tell you that if you made a certain face long enough, it would stay that way? Same concept. Train how you want to look. If you want a flat stomach, do exercises that allow you to keep your navel drawn inward to your spine WITHOUT flaring your ribs.   3. Crunches work one muscle: The human body has hundreds of muscles. They all need a workout. Crunches were created to ISOLATE the rectus abdominus. Okay, great. Do you have time to work every muscle one at a time? I don't. Crunches are a "waist" of time! You should spend your time doing multi-joint motions that are functional and work more than one muscle at a time. 4. Crunches must be done perfectly or they will compress your intervertebral discs: Do you know how to execute a perfect crunch? I can hear your wheels turning… But why waste brain power trying to figure out how to do a perfect crunch so you can work one muscle while possibly putting your whole spine at risk of rupture! By the way, situps are even worse for your spine. 5. I believe that crunches contribute to diastasis recti: Having a split in the abdominal wall is pretty common, and it is often misdiagnosed as a hernia when people see that lump sticking out of their tummies. Men, women and children can all get this injury, and my personal research is showing a direct link between crunches and diastasis. My site is full of crunch-free workouts for just $9.95/month. Give it a try!

Thank you for reading the Fit2Blog today! What are your thoughts about what you read? Please leave a reply or a question, and be sure you're taking advantage of our amazing TummySafe™ workouts!