Kara in Texas writes… "So I did my 3rd workout of yours this morning, and I haven't felt sore or anything.  Am I doing it wrong?  I'm really excited to try this, thank you for getting back to me!" Bethany wrote back… Hi Kara, My hope is that you won't be sore much at all while your progress through this initial phase. Soreness is a terrible thing for a mother, because we have so much to do every day. I want to get my members away from thinking that soreness is a sign of a good workout. Signs of a healthy, wholesome workout include:
Muscles that feel more alive and maybe slightly tired but not necessarily sore.

A feeling of accomplishment and confidence and relaxation.

The knowledge that you could do the workout AGAIN right way if you wanted to.

A deeper mind and body connection.

A heightened awareness and more energy as your oxygen levels have increased.

A better night's sleep

What else have YOU noticed after a workout that leaves you feeling invigorated, not injured? Please comment!
I work with the most special population on the planet: Mothers. We are sleep-deprived, broken down from birth and dealing with diastasis recti. We are responsible for a million little details every day, and we need to be ready to lurch and lunge for our kids who – we swear – have a death wish until age four. On top of all that we grocery shop, ferry kids back and forth, make appointments, memorize health histories, and if you have a newborn, you are feeding them for 11 hours a day on average! Moms do not have time, energy or healing properties – quite frankly many moms are downright malnourished – to keep up with soreness! We are too busy patching up our kids' boo-boos to be mindful of our own.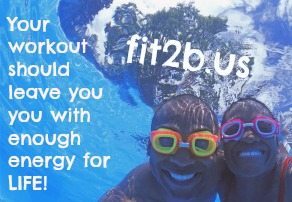 I said how tired we are, right? I already said that… See? I am NOT complaining. I've got mommy-brain, too! I love my life as a mom. I also kind of like a little soreness here and there after a good hard workout, but sometimes I think I know my limits, and I push, and I'm tired, and I've hurt myself… not because my alignment was wrong, but because the energy simply wasn't there to support my "normal" level of exertion.
Tired muscles are prone to more soreness, and tired muscles are more easily injured. Moms are often so tired, that feeling exhausted is their new normal. So my goal is never to make a mom sore, but make a mom strong. I do my very best to keep things simple and safe, yet progressive.
You will move forward. You will feel it. You will get stronger, but it will be the kind of strong that empowers you to go from a dead sleep to fully awake and catching puke at 2:27 a.m. It will be the kind of strong that lets you pack your kid on a hike. It will be the kind of strong that doesn't leave you limping but LAUGHING with joy at this wonderful, beautiful life you have been given. It's the kind of strong that lets you jump on a trampoline without, eh, side effects. Try a gentle workout NOW that will only take 10 minutes and – while you MIGHT be a little sore because it directly targets a core muscle that RARELY gets used – I promise you'll feel energized and amazed when you're done!
Thank you for reading the Fit2Blog today! What are your thoughts about what you read? Please leave a reply or a question, and be sure you're taking advantage of our amazing TummySafe™ workouts!